Sloan Foundation's Elizabeth Boylan Honored with Frank Abbott Award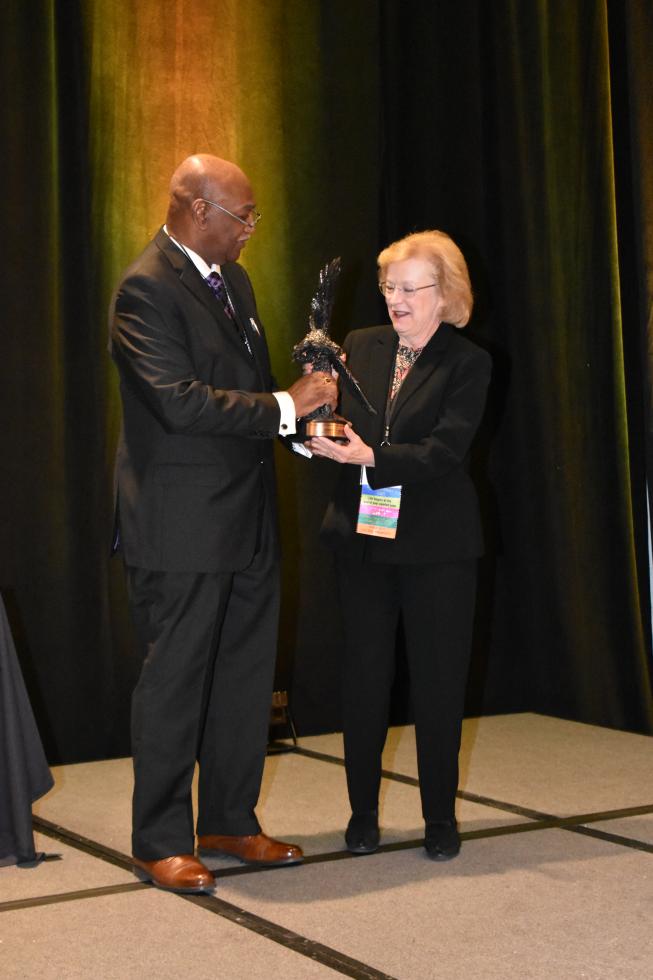 Elizabeth S. Boylan, director of the Alfred P. Sloan Foundation's programs on STEM higher education, was honored with the 2018 Frank Abbott Award at the Institute on Teaching and Mentoring in October in Arlington, Virginia.
Since joining Sloan in 2011, Dr. Boylan has been responsible for the attendance of more than 1,000 Sloan scholars at the Institute and leads the design of a number of sessions at the event.
The most prestigious recognition awarded at the Institute on Teaching and Mentoring, the Abbott Award is given to an individual who has made significant and sustained contributions to the Institute. It has been awarded only eight times in the Institute's 25-year history. The honor is named for Frank Abbott, the first director of the Compact for Faculty Diversity, which established the Institute on Teaching and Mentoring.
Dr. Boylan came to the Sloan Foundation after 16 years at Barnard College, where she served as provost and dean of the faculty and professor of biological sciences. Prior to Barnard, she was associate provost for academic planning and programs at Queens College/CUNY.
"Dr. Boylan has demonstrated her commitment to the goals and mission of the Institute on Teaching and Mentoring not only by supporting the scholars themselves, but also by engaging campus faculty," said Ansley Abraham, director of the SREB-State Doctoral Scholars Program, which hosts the Institute.
The Institute on Teaching and Mentoring is the largest gathering of minority doctoral scholars in the country. Now in its 25th year, the Institute gives the issue of faculty diversity a national focus and provides minority scholars with the strategies necessary to survive the rigors of graduate school, earn the doctoral degree and succeed as members of the professorate.
Contact: Beth Day, (404) 879-5544 beth.day@sreb.org
Or Ansley Abraham, (404) 879-5573 ansley.abraham@sreb.org