Health and Safety Plans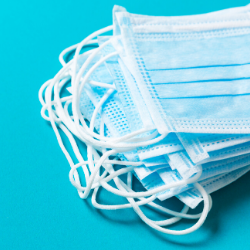 Social distancing and PPE use
Create a campus-wide plan that is specific to your institution and promotes social distancing and the use of personal protective equipment (PPE), such as masks.
1. Establish a comprehensive social distancing plan for classrooms and shared or common areas (e.g., dining halls, student centers, and residence hall bathrooms).
Begin by reviewing federal, state and local guidelines for reopening schools and businesses and considering how they can be adapted to suit the unique needs of your college or university. These guidelines may include those published by the White House, the Centers for Disease Control and Prevention, state governors or local health departments and professional medical associations.
Use these guidelines to identify possible scenarios based on group-size limits, if feasible, in each phase of your campus reopening, recovery and resurgence plan. For example, Phase 1 may allow gatherings of up to 10 individuals, Phase 2 up to 25 individuals, and so on. Consider federal, state or local guidelines regarding maximum occupancy with social distancing to offer virtual-only classes and activities or a staggered or rotated schedule that allows for smaller class sizes when feasible.
Consider opening residence halls at a lower capacity and closing or limiting access to shared spaces such as kitchens and lounges. Review the social distancing policies and procedures recommended by federal, state or local guidelines and determine how they may be used in collegiate settings.
Determine any needed changes to the layouts of classrooms and other spaces to support social distancing. Use physical markers or barriers to communicate social distancing expectations. For example, tape, cones, dividers or signs can mark line positions as students wait to attend faculty office hours or visit with an administrator. Scheduling classes in larger classrooms or auditoriums increases the ability to adhere to social distancing guidelines.
Consider requiring assigned seating in classrooms to assist local health officials with contact tracing if a student, instructor or faculty member tests positive for COVID-19.
Create and communicate clear guidelines for the reopening of extracurricular activities, such as student athletics and clubs. These activities might require that extra steps be taken to require social distancing, cleaning and disinfecting, or wearing face masks.
Communicate early and often to students, faculty, staff and the general campus community about any changes related to the institution's COVID-19 plan that they can expect to see on campus.
2. Establish expectations for students, faculty, staff and campus visitors to use PPE.
Promote behaviors that reduce the spread of COVID-19, including staying home or self-isolating when needed, maintaining proper hand-washing hygiene and wearing face masks.
Consider making masks, soap and hand sanitizer freely available to the campus community and ensure that students, faculty, staff and visitors know where they can obtain these supplies.
Campus leaders should brainstorm site-based activities that engage parents, community members and campus visitors. Policies and procedures for each group should be revised to reflect the expectations set by local health agencies. Many institutions use an open-door policy to build and maintain relationships across the community; these policies, however, may unintentionally place students, faculty, staff, and visitors at risk. Leaders should safeguard opportunities for all campus stakeholders to feel welcomed, valued and protected while at the same time clearly communicating expectations about safety protocols required by the institution.
Consider revising policies and procedures and adding virtual options for the following activities:

Participating in campus visits/tours
Attending or hosting athletic, academic and social events
Submitting or requesting student documents from, for example, the registrar and student financial aid office
Accessing campus resources such as college and career advising centers, libraries, and media centers

Communicate early and often about expectations for students, faculty and staff to reduce confusion and lower the risk of meeting resistance once campus reopens. Use multiple channels for communication, such as campus-wide e-mails, social media and campus newspapers.
3. Review and revise procedures and policies for office and non-instructional spaces as well as instructional spaces (e.g., classrooms, laboratories, gymnasiums, studios) to ensure the safety of students, faculty, staff and visitors.
Determine the best use of indoor and outdoor spaces. If possible, limit the need for static groups of students, faculty and staff to share spaces with other groups.

4. Conduct periodic checks of each building to maintain healthy learning, living and work environments.
Designate a campus COVID-19 officer who will maintain responsibility for overseeing implementation of social distancing and PPE policies across campus, identify potential areas of risk and serve as a liaison with state and local health officials regarding current COVID-19 guidelines.
Determine what additional resources will be needed to support the implementation of the plan, such as traffic cones, tape, signs or plexiglass dividers.
Complete a walkthrough of campus facilities to verify that all areas are addressed in the cleaning and disinfection plan. Use the walkthrough to identify high-touch areas (e.g., door handles) that should be highlighted in procedures and protocols.
Create a calendar that includes periodic walkthroughs to ensure that procedures and protocols are being implemented as designed. Consider building in additional time to clean, sanitize and disinfect campus facilities, ensuring that instructional time is protected.
Additional staff may be needed to assist with cleaning and disinfection of high-touch areas, classrooms, and common areas on campus.
Cleaning and Disinfection
​Develop and implement a plan for cleaning and disinfecting classrooms, offices and shared spaces on campus in preparation for reopening and beyond. Routinely review and revise policies based on current guidance from the Centers for Disease Control and Prevention
1. Review and enhance comprehensive procedures and protocols for cleaning and disinfecting campus environments.
Begin by reviewing existing cleaning, sanitization and disinfection protocols or procedures. Compare them with guidelines provided by the CDC and state and local health authorities. Implement a coding system to designate each procedure or protocol as fully aligned, partially aligned or not aligned with these guidelines. Those that are not fully aligned should be revised to reflect current recommendations.
Create a running list of unaddressed considerations or recommendations. Use this list to expand or enhance procedures and protocols.
Create a summary document that helps communicate new cleaning and disinfection procedures and protocols to the campus community. Include specific cleaning tasks by job function, setting —or example, shared spaces like gyms, locker rooms, band rooms, classrooms or offices — and frequency. Be sure to explain your approach and provide details that support implementation, including who will be responsible for the cleaning and disinfection. Communication with the campus community about these procedures will convey that the institution is committed to mitigating the spread of COVID-19 on campus.
Conduct periodic reviews of procedures and protocols, and adjust them as needed to increase efficiency and effectiveness.

2. Secure and manage selected cleaning resources.
Use the cleaning and disinfection plan to compile a list of needed cleaning, sanitizing and disinfecting products for campus buildings, classrooms, laboratories and offices. Cross-reference the list with products meeting the United States Environmental Protection Agency disinfection criteria and seek input from state or local health departments and risk management personnel. Determine which products or chemicals should be banned from use — including those that cannot be used due to staff or student chemical sensitivities or allergies.
Consider including the following in the list of products:

Alternate product(s) to be used in cases of shortage or limited access to preferred products
Quantity needed for the institution to maintain a three- to six-month supply
Vendor(s) and contact information

Make a product management and distribution plan that addresses how products will be distributed, stored and managed. Determine who will be responsible for managing the product inventory and ensuring that cleaning and disinfection products are safely and securely stored.
Contact state or regional purchasing officers to determine if selected products can be purchased using a state negotiated price agreement or bulk discount. Work within regional networks to determine shared needs, and establish new statewide pricing agreements for high-need items.
Consider whether outside supplies will be allowed, and determine policies and guidelines for the use of cleaning and sanitizing products that are not provided by the institution, such as hand sanitizers or cleaning supplies brought onto campus by faculty, staff or students. Clearly outline which products are allowed and proper procedures for using them.
Provide students, faculty and staff with the list of banned items, clearly communicating 1) why these products have been banned, and 2) the need for respecting students and staff with chemical sensitivities. Ensure that products are used with proper ventilation, and provide a list of alternative approved products and where such products may be obtained.
3. Launch a personal hygiene campaign.
Use CDC and local health department resources as sources of information or instructional videos on topics such as proper procedure for washing hands, cleaning surfaces and using face masks or other PPE.
The campaign should include posters on campus, campuswide e-mails, social media, and the campus newspaper to ensure distribution to the widest audience.