State and Institutional Task Forces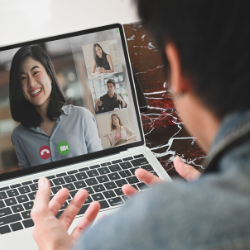 Many states and postsecondary systems and institutions have created task forces to plan and manage the re-opening of higher education institutions. Here you will find ideas for how to structure a higher education recovery task force, whom to include, and how to communicate its work.
Enhance institutional or system task forces for longer-term sustainability
1. Define the problem task forces will address and establish a clear scope and purpose to guide the group's work.
Task forces can be created to address specific needs and areas of expertise at the state, system and institutional levels. An overarching COVID-19 response task force can help serve as the organizing umbrella and is important for providing leadership and clarity of vision. It is essential that leaders clearly define the problems that the task force or committee will be asked to address.
2. Create subcommittees for specific areas of focus.
While an overarching task force is crucial for leadership, sub-committees can be formed to meet more specific needs and areas of focus.
Potential subcommittees could potentially include:

Student Affairs
Student Health Services
Human Resources
Information and Technology Services
Laboratory Operations
Specific colleges and schools, such as the School of Nursing or College of Education
3. Ensure that task force membership is balanced and aligns with the task force's communicated purpose.
Be sure to consider whether you can use pre-established committees or need to create a new task force or subcommittee charged specifically with addressing challenges relating to institution operations in the fall.
SREB compiled the following lists of potential task force members. Use this as a starting point to brainstorm additional members to invite to serve on your task force or to add to an existing committee or group
State or System

Governing board or commission members
President
Chief Operating Officer
Vice President for Academic Affairs
Vice President for Finance / Chief Financial Officer
Vice President for Human Resources
Vice President for Policy
Vice President for Communications
Vice President for Research
Vice President of Diversity and Inclusion
General Counsel
Technology Director

Higher Education Institution

Administrators
Faculty
Students
Community members
Student Health staff

Other Representatives

Community support agencies
Public radio or television stations
State or local public health departments
Hospitals or health care providers
Mental health officials or clinicians
Public safety agencies
County emergency management
Workforce development agencies
Business partners
As you consider expanding your groups or building new ones, review the list below to ensure the balance of your team.
Dos and Don'ts of Securing Task Force Members
| Do | Don't |
| --- | --- |
| Take a strategic approach to building or revising your task force's membership | Ask for volunteers |
| Ensure membership is diverse and balanced | Limit the team to those who traditionally participate, "the usual suspects." |
| Ensure invited members represent the overall demographics of your school and/or district | Communicate that meetings are optional. This will limit the participation and the overall success of your team |
| Prioritize regional or local experts who understand and can provide guidance on health and safety measures (such as health officials, public safety officials). | |
4. Define the timeline to support the work that is communicated to both task force members and other shareholders.
As task force and subcommittee work carries on throughout the summer and into the fall, it is important to share updates on the timeline and scope of work so that members can commit to the work. Questions to consider include:

Are current task forces and committees meeting weekly? Is that time commitment limiting participation? Is the existing meeting schedule yielding the desired results?
Is the group large enough to split into subcommittees or smaller teams on specific priorities?
Can you adopt a schedule that allows subcommittees to meet every other week and share results with the full task force on alternating weeks?
How will members attend meetings? Will members be expected to participate in face-to-face sessions, or can video conferencing be used?
Who will be responsible for overseeing and carrying out the different elements of the recovery and reopening plans created by the groups?
5. Secure relevant background information and available resources.
Gather background information and resources task force members can use to (a) gain an overview of the problem they are trying to address and (b) communicate potential solutions and best practices that already exist. These materials will set the stage for the success of your task force.
Provide opportunities for local experts to share strategies and lessons learned. Invited guests should align with the overall purpose of the task force as well as its calendar of deliverables. Share varied resources from other states and institutions to spark planning. Be careful to share resources that showcase a variety of solutions so the team can brainstorm the ideas that work best for your state or institution.
6. Establish a multi-faceted communication plan.
Clear and frequent communication between state systems, institutions, partner organizations, and the public is essential. Almost all states and higher education institutions have no established websites with information and advice about COVID-19 and updates on education and economic recovery plans. This information is often shared daily through a combination of press releases, conferences, social media and the web.

Post the calendar of task force meetings and resources on your institution or state system website.
Use institutional task forces to identify successful communication tools at the local level.
Utilize a communication strategy that provides no-tech, low-tech and high-tech options.
Provide ongoing updates in alternate formats and multiple languages.
Evaluate the communication plan monthly to determine which tools are working well and which need to be revisited.
| | | |
| --- | --- | --- |
| No-Tech | Low-Tech | High-Tech |
| Flyers and "how to" guides that are mailed to students' homes (in multiple languages) | Auto-calls to enrolled | State system or institution websites |
| Local newspaper promotional segments | Radio broadcast announcements | Related social media resources, like Facebook, Twitter, YouTube and Instagram |
| | Television broadcast announcements | Recorded or live-streamed task force meetings |
7. Stay attuned to decisions by external organizations that can influence higher education institutions' responses.
Higher education institutions and state systems should additionally pay attention to the decisions of external organizations that may impact their own operations or students.

The NCAA has a webpage with regular COVID-19 updates that affect college athletes.
The U.S. Immigration and Customs Enforcement website includes information about critical updates to the Student and Exchange Visitor Program policies and requirements. As of early July 2020, students on F-1 and M-1 visas may not remain in the United States if their institutions have moved to an online model and they are enrolled in a fully online course load.
Pay attention to the U.S. Department of State – Bureau of Consular Affairs updates regarding visa services for international students.
Continue to review and understand federal, state, and local COVID-19 policies and resources
National Guidance and Resources
State Guidance and Resources