Virtual Internship
The Advanced Manufacturing Virtual Internship: A Gamechanger in Workforce Development
By Jon Schmidt-Davis and Jahana Martin, SREB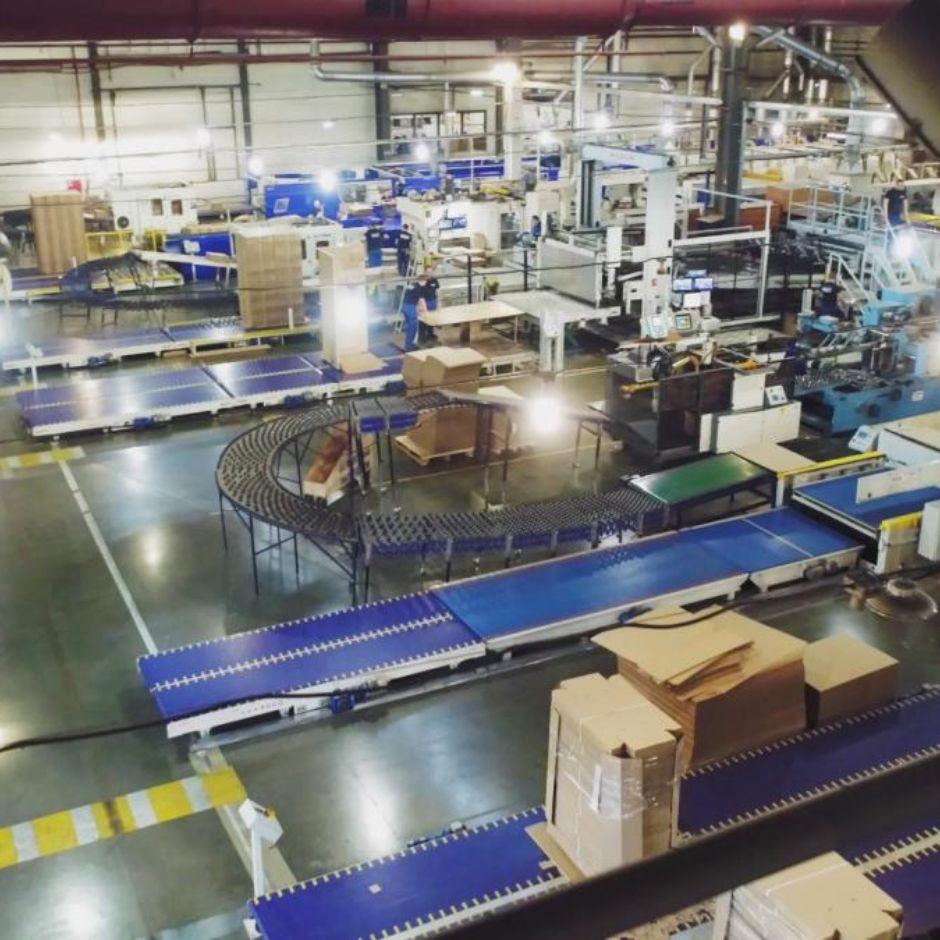 Internships provide valuable opportunities for students to gain work experience, explore career paths and make professional connections. Business and industry also benefit as they can develop talent, engage with their future workforce and build relationships within their community. Traditionally, students complete internships onsite in the workplace, but sometimes that option isn't available.
At the same time that schools began to pivot to virtual learning due to the COVID-19 pandemic, two students were scheduled to begin internships at Win-Tech, Inc., a small Georgia manufacturer that supplies aircraft parts for Lockheed Martin and other major aerospace companies. Allison Giddens, president of Win-Tech, was committed to the program and began to think about how she could offer these internships virtually.
A New Look for Internships
Giddens created the Advanced Manufacturing Virtual Internship. The goal of AMVI is to give students a CEO's view of manufacturing, to understand the big picture in a way that high school interns rarely can. And she discovered the virtual internship increased Win-Tech's capacity for interns. Instead of offering a three-month in-person internship for two students, her team was able to extend the internship to 12 students from four high schools in Cobb County, Georgia.
Win-Tech staff and Gidden's extensive network of "rock star" subject matter experts engage students in Zoom sessions that cover key areas in manufacturing and industry. Giddens ensures presenters keep the students engaged by talking to them, not at them. She opts not to record the sessions — in part because they have had some high-profile subject matter experts willing to present on their own time, and willing to engage in very open conversations with high school students about their industry experience. The "off-the-record" nature of a class discussion makes the conversations authentic, and some of that might be lost if the classes were recorded.
The Virtual Internship Schedule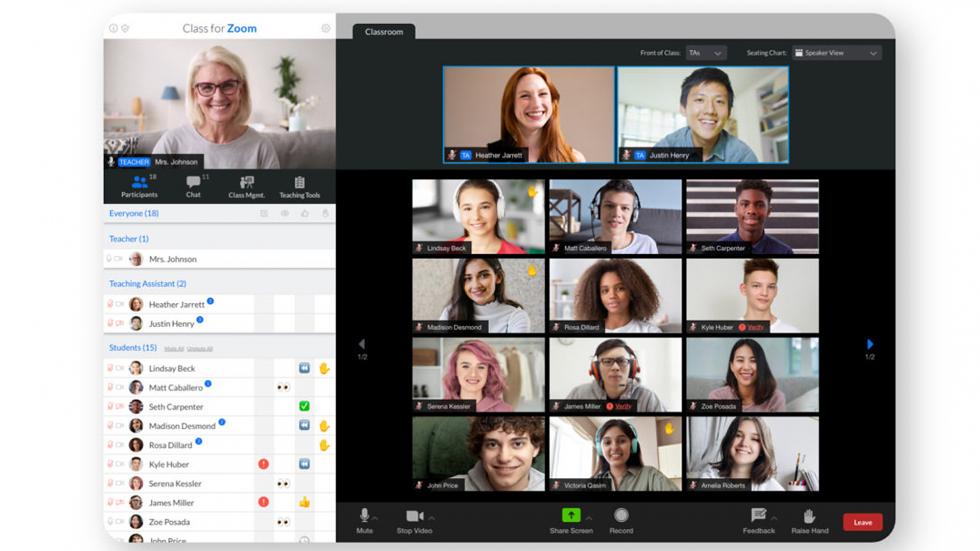 Students meet on Zoom for one hour, four days a week for roughly four weeks. The program kicks off with an orientation day that includes introductions, the program layout, class expectations and norms, and exploring the program's project which spans the length of the internship.
The project's focus is on problem-solving using manufacturing, technology or another specified concept. "I encourage them to take some concepts or ideas they learn over the next few weeks to explore how they may weave them into their project," Giddens says.
The next day, students explore what it means to be an aerospace manufacturer. They take a virtual tour of Win-Tech's machine shop and learn what skills are required to manufacture its products.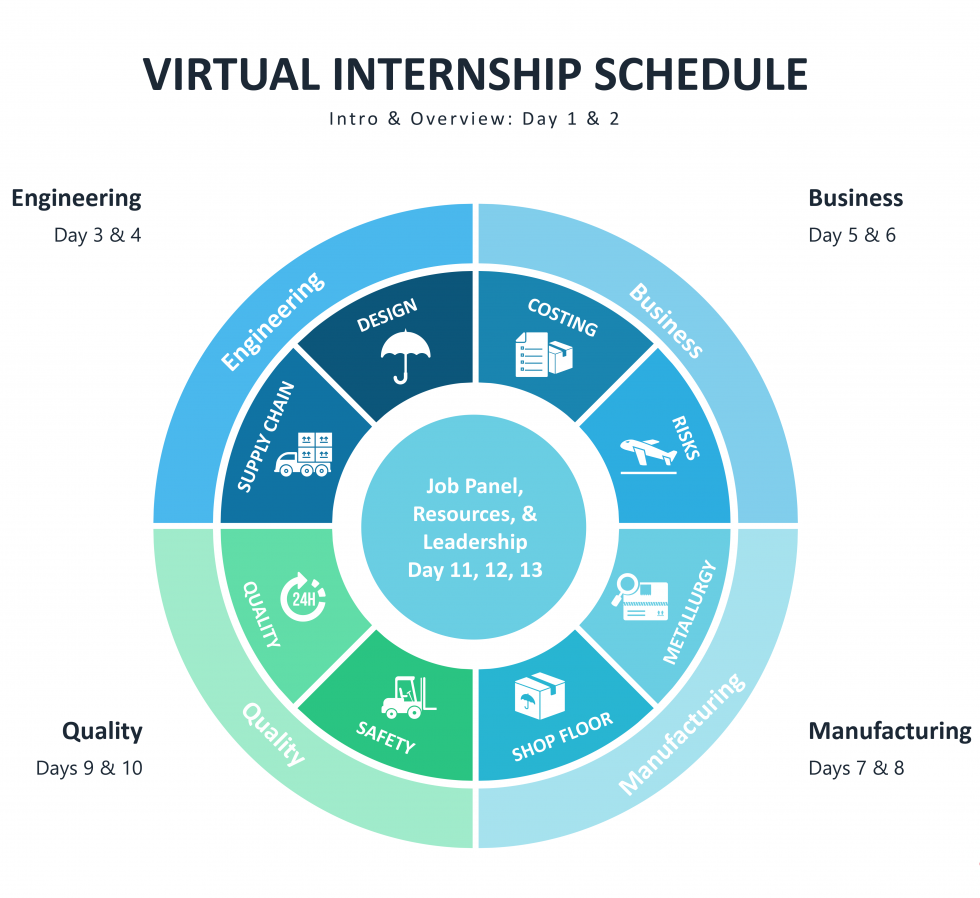 On day three, interns begin their journey through the core of the curriculum separated into four parts — engineering, business, manufacturing and quality — each divided into smaller segments. Each section is led by a subject matter expert researched and identified by Giddens. By using LinkedIn, Chamber of Commerce and other similar networking connections, Giddens assembled a faculty that represented international expertise, Fortune 500 companies and people in leadership roles with recognizable brands — all of whom agreed to participate as volunteers. Delivering the internship virtually made it possible to bring together global talent. "People want to help — they just want to be told how to do it," Giddens shares.
Each day, students engage in a different topic ranging from supply and logistics to quality control, leadership and marketing. On the last two days of the AMVI, students use PowerPoint, Prezi or another platform to give 10-minute presentations to experts who return to help judge the presentation and provide authentic feedback.
Examples of past presentations include:
The development of a keyboard for people with disabilities
Ethical concerns with using artificial intelligence
Production of environmentally friendly batteries
Cost savings in the production of rocket boosters
Students win awards for top-rated projects. One student presentation has already resulted in an internship with a major manufacturing company.
AMVI as developed and implemented by Win-Tech is an opportunity for high school students to better understand advanced manufacturing. The process and framework for running the AMVI are open source and can be replicated. The first expansion was to provide internship opportunities for neurodiverse people, among whom unemployment is extremely high.
Contact: Allison Giddens, akrache@win-tech.net