Improving the Quality of Career and Technical Alternative Teacher Preparation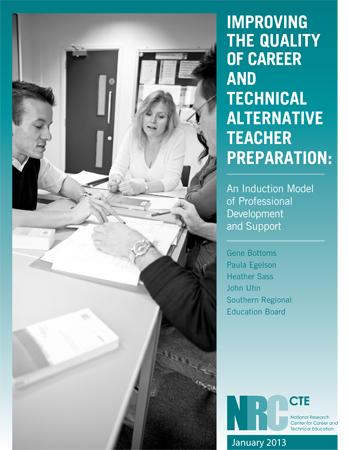 This report presents the results of the NRCCTE's five-year collaboration with SREB to develop an induction model for new CTE teachers pursuing an alternative route to certification that increases their competence, self-efficacy, and retention.
CTE teachers who enter the profession through alternative routes are more likely to feel confident about their knowledge of their career field but less confident about their ability to convey that knowledge to students. Many alternatively certified CTE teachers express concern regarding classroom management, student motivation, and planning instruction for special needs students. As this report outlines, research indicates that alternatively certified teachers need professional development in planning, instructional methods, assessment, and how to support struggling students. Alternatively certified CTE teachers also need feedback about their work, strategies for managing added demands on their time and energy, and resources for planning and teaching.
In response to these needs, our field-tested induction model builds the capacity of beginning CTE teachers to offer instruction that is both intellectually demanding and standards-focused and thus more likely to improve CTE students' academic achievement. The model also builds CTE teachers' capacity to design instruction that is actively engaging using strategies like project-based learning and cooperative learning. Students who are actively engaged intellectually and emotionally in their high school courses are more likely to stay in school, acquire their high school diplomas in four years, and enter postsecondary institutions without the need for remediation.
Bottoms, G., Egelson, P., Sass, H., & Uhn, J. (2013, January). Improving the quality of career and technical alternative teacher preparation: An induction model of professional development and support. Louisville, KY: National Research Center for Career and Technical Education, University of Louisville.