Powerful Health Education Instructional Practices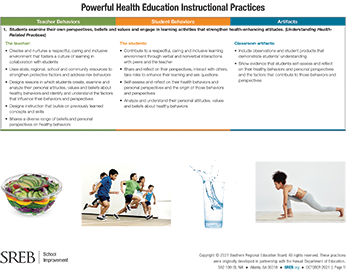 Teachers who follow SREB's Powerful Health Education Instructional Practices draw on national, regional and local public health data and other sources to identify priority health issues for the local community. Then, the authentic learning experiences teachers craft engage students in identifying the protective factors, risk behaviors and health-enhancing behaviors that influence these health issues and complete projects that require them to problem-solve and implement changes to health behaviors and practices at school and at home.
Students develop essential literacy skills — reading, writing, speaking, listening and thinking—as they formulate ideas and share different experiences and personal or cultural perspectives on health with their peers. Students create diverse oral, written or visual products to inform others about health-enhancing behaviors, such as interviews, podcasts, blogs, wellness plans, menus, scripts, ads or videos.
The Powerful Health Education Instructional Practices were originally developed by SREB in partnership with the Hawaii Department of Education and later refined by a team of SREB content-area experts to align with our full suite of Powerful Instructional Practices.
Students examine their own perspectives, beliefs and values and engage in learning activities that strengthen health-enhancing attitudes. (Understanding Health-Related Practices)

Relevant, authentic learning experiences and assignments lead students to practice and use health literacy skills. (Adopting and Maintaining Health-Promoting Behaviors)

Lesson sequences within a unit are based upon the meaningful skill development model and address concept and skill development and mastery. (Supporting Health Skill Development)

Focused learning targets and quality feedback advance students' understanding of health concepts and development of health-enhancing skills. (Aligning Learning Targets to Unit Expectations)

Engaging learning strategies promote the progressive development of skills and address learning expectations. (Designing Engaging Instruction)

Students meaningfully engage in participatory learning to apply health content knowledge and skills within the context of self, family and the community. (Connecting Health Practices Beyond the Classroom)