How colleges can better serve student-parents
One in five U.S. undergraduates now raising children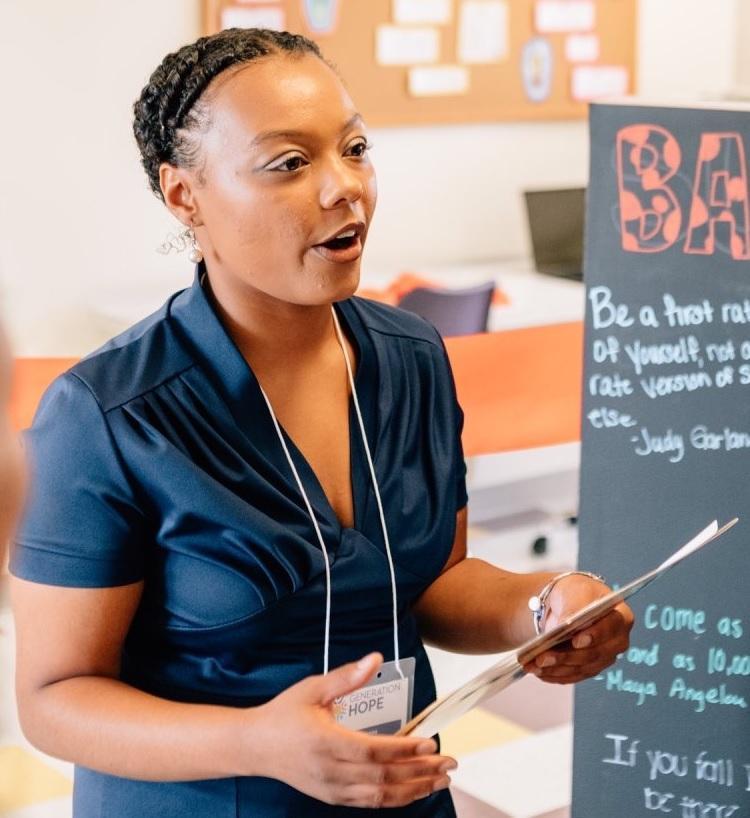 More of today's college students are raising children while in school, and they're a larger, faster-growing group than many colleges institutions and policymakers realize.
Nicole Lynn Lewis, the founder and CEO of Generation Hope, joined SREB for a webinar on June 11 to discuss how institutions can build and strengthen support for student-parents. Her organization assists teenage parents—men and women—who attend college in Virginia, Maryland and the District of Columbia.
"As a field, we aren't talking about student-parents enough," Lewis said. "And it's vitally important."
About 20% of undergraduate students in the U.S. now are parents, and about 42% of them attend community colleges, Lewis said. Among black women college students, more than half have children.
Student-parents are often from low-income families. Three out of four are first-generation college students. Many also deal with food insecurity, domestic violence and mental health issues in their families.
"These real hurdles are getting in the way of degree attainment," said Lewis, who was a young mother herself while attending Virginia's College of William & Mary. "Intentional supports for student-parents can help move the needle."
College students with children have higher average GPAs than nonparents, but most leave college before completing a degree.
Support makes a difference
For Generation Hope's recent national report, the organization surveyed hundreds of student-parents. One in three reported their college wasn't family-friendly (with no child care or knowledge of their situation, for example). Three in four student-parents didn't know that additional financial aid could be available to them.
A majority reported having missed class because of a lack of child care.
Nija Simmons knows these challenges from experience. Speaking on the SREB webinar, the biology major at Anne Arundel Community College in Maryland said she's attending classes while raising a 3-year-old
When she read the Generation Hope survey results, Simmons noticed that, one student had reported "no one like me" seemed to be attending the same college and raising a child. "That resonated with me, because those are the shoes I walk in as a single-parent scholar," she said.
"Many colleges don't know how many of their students are raising children—and have never asked how they can support them."
Many student-parents like herself could use on-campus family housing, more reliable child care, and study space that's welcoming to children and families, Simmons said.
"Family housing for students with children is really, really hard to come by, unfortunately," Lewis said. Many college child-care centers have long wait lists because they also serve faculty and staff, leaving many students out of luck.
Among the hundreds of teen parents, Generation Hope has served, the results are clear: Students have a 61% graduation rate (higher than for all students nationally), more than 90 percent stay in college, and many graduates have become nurses, teachers, and nonprofit professionals. Nearly 30% are pursuing graduate school.
Determining students' needs
What can institutions do to serve student-parents better? First, they need to know more about who they serve and ask about their needs, Lewis said.
Monroe Community College in Rochester, New York, asks all new students about services they might need—including whether they are parents or need child care, Lewis said. The college continues to ask about parenting every time students register for classes—because parenting situations can change over time.
Many colleges don't know how many of their students are raising children—and have never asked how they can support them, Lewis said.
Students with children may not be able to attend career fairs or work unpaid internships. So, Generation Hope connects its students with paid internship possibilities, mental health support and other services.
High school counselors also need to know which colleges welcome student-parents said SREB's Alice Anne Bailey, who moderated the webinar.
Generation Hope conducts college-readiness workshops for students in middle and high schools. Colleges often stop talking with teens who are parents or expecting while in high school, although many still plan to enroll, Lewis said. "Are you creating systems where students know there is still hope for a postsecondary credential after high school?"
View a recording of the webinar One in Five: The Student Parent Experience and its Impact on College Success.