Reading in the Early Grades
How can we ensure reading proficiency by the end of third grade?
It's no secret that reading skills are essential for success, both as a student and later in life. And educators know that reading proficiently by the end of third grade is crucial to students' continued development. Up until third grade students learn to read; after that, they read to learn. It is paramount that students read proficiently by the end of third grade so they are prepared for later learning. As the Center for Public Education puts it,
The research is clear: if children cannot read proficiently by the end of third grade, they face daunting hurdles to success in school and beyond. Third grade marks a pivot point in reading. In fourth grade, students begin encountering a wider variety of texts. By then, able readers have learned to extract and analyze new information and expand their vocabularies by reading. But struggling readers rarely catch up with their peers academically and are four times more likely to drop out of high school, lowering their earning power as adults and possibly costing society in welfare and other supports.
Third grade is a watershed for reading proficiency, and one that has ever-expanding effects on jobs and the economy. In a recent Business Roundtable survey, 93 percent of CEOs said reading and writing skills are important for current job openings in their companies. Indeed, 99 percent of the jobs added to the economy in the past six years are held by workers who had some level of education or training after high school — yet economists predict that five million workers will lack the postsecondary education and training needed to be competitive in our nation's workforce by 2020.
Students who lack the reading skills they need to be successful in high school, let alone in post-secondary education, typically begin to struggle in the early grades. A 2014 report commissioned by ACT found that nearly two thirds of students who failed to meet an eighth-grade reading benchmark that put them on track for college- and career-readiness were not proficient readers in fourth grade.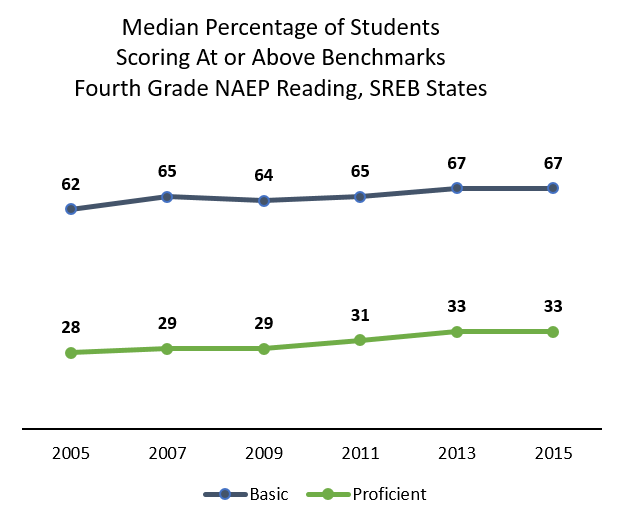 SREB states have made progress in recent years toward increased reading achievement for kindergarten through third grade students. Scores on the fourth-grade National Assessment of Educational Progress (NAEP) reading test continue to rise. SREB states saw an average increase of five percentage points in the proportion of students meeting or exceeding benchmarks at both the Basic and Proficient levels between 2005 and 2015. In the median SREB state, 33 percent of students scored at or above the proficient level in 2015. However, there is still much room for improvement: one-third of fourth-grade students in SREB states did not meet the benchmark indicating a basic level of reading skills in 2015.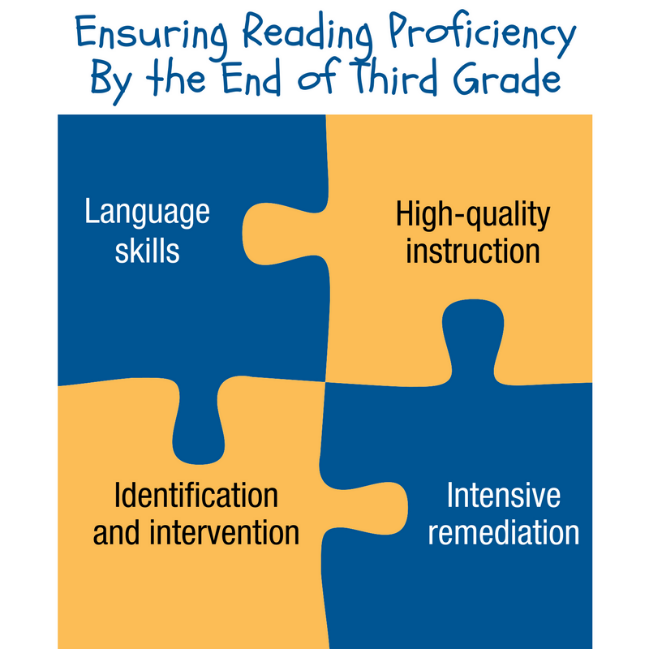 There is no silver bullet that will improve reading achievement — we must address all facets of reading development. Children need to establish strong language and vocabulary skills in early childhood and build on those skills in the early grades. Educators need training specific to teaching reading, and they need to teach young children to read using high-quality instruction and an aligned pre-K to grade 3 curriculum. Schools need to be equipped to identify difficulties with reading skills early on and intervene to help students. State policies for assuring reading proficiency by the end of third grade need to ensure that students who do not meet that benchmark receive intensive remediation designed to catch them up as quickly as possible. Comprehensive policies that target every aspect of reading development will support children from birth to age eight in reaching the goal of reading proficiently by the end of third grade.
Watch for an upcoming policy report that explains how states and policymakers can work to address each of these steps along the path to reading proficiency.