West Virginia: Leading-Edge Career-Tech Showcased in The New York Times
State's partnerships with SREB go far beyond adoption of Advanced Career Energy and Power pathway.
A recent article in The New York Times describes how West Virginia's career and technical education programs are preparing students for degrees and careers in the state's high-tech, high-demand industries.
"Far from being strictly a job training program for teenagers, classes like Advanced Career Energy and Power, the four-course sequence for which teachers were training at Marshall University, require math and physics instruction as rigorous as in the College Board's Advanced Placement track."
I was pleased to see the article highlight West Virginia's adoption of SREB's AC Energy and Power curriculum as an example of its commitment to career pathways that blend college-prep with modern CTE. Unlike the "vo-tech track" of their grandparents' generation, students attending one of the state's many CTE centers are converting sunlight into electricity and using engineering principles, computer-aided design programs and 3-D printers to create their own products.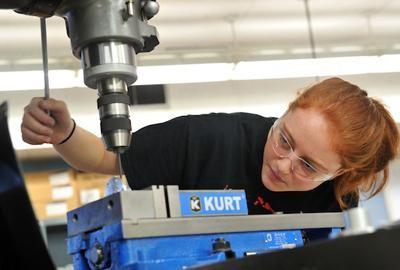 The article also describes how the state developed a model simulated workplace program under the leadership of Kathy D'Antoni, associate superintendent of schools for the West Virginia Department of Education. West Virginia's more than 1,200 simulated workplaces transform high schools into business environments that introduce students to the world of work while helping them acquire essential 21st-century skills like teamwork, professionalism, good attendance and safety. Simulated workplace sites also offer random drug testing — a bold move embraced by parents and employers, according to the article.
As the article notes, about half of West Virginia's CTE students go on to two- or four-year colleges. This is consistent with numerous studies by the National Research Center for Career and Technical Education at SREB showing that career and technical education keeps students engaged and achieving at higher levels, prevents dropout and promotes transitions to college and the workplace.
There's so much more to West Virginia's story.
Here are six facts about the state's strong partnerships with SREB that weren't noted in the article.
1. West Virginia partnered with SREB and seven other states to design and develop the Advanced Career Energy and Power pathway and AC pathways in eight other STEM-intensive fields with support from industry leaders, postsecondary faculty and master teachers. It was the first state to dedicate funding for schools and CTE centers to adopt any of AC's nine pathways. It also boasts the second-highest number of schools offering AC in the nation.
One of West Virginia's AC programs is on a community and technical college campus, where students are enrolled as non-degree students and can earn 12 hours of college credit, shortening their time to an associate degree. Strong AC end-of-project and end-of-course assessment results show that West Virginia is adopting AC in ways that truly blend high-quality CTE studies with a college-ready academic core.
2. West Virginia wants its CTE teachers to succeed — and stick around. To support new and early-career CTE teachers who join the profession after careers in business and industry, West Virginia adopted SREB's Teaching to Lead program, an intensive teacher induction and professional development program. Teaching to Lead builds new and early-career teachers' competence, self-efficacy and career commitment as they model and practice effective instructional strategies and engage in feedback and reflection with their peers.
So far, under D'Antoni's leadership, three cohorts of West Virginia teachers — a total of 137 — have participated in this 200-hour program. In a recent survey, 90 percent of participants said they planned to remain in the profession for at least five years. CTE center directors also report that participants are some of the very best prepared teachers they've ever hired.
3. The state is so serious about college and career readiness that its career and technology centers are staffed with full-time English and math teachers who work with CTE teachers to embed literacy and math standards and strategies in challenging, project-based assignments. The intent is to integrate literacy and math readiness courses — developed by SREB in partnership with states — into the centers' technical programs and adopt extended-day schedules that allow students who take these courses to earn English and math credits that count toward graduation. West Virginia is seeing an increase in the percentage of students who are meeting college- and career-readiness standards as a result of implementing strategies like these.
4. With support from SREB, academic and CTE teacher teams at 22 of the state's CTE centers have spent the past three years redesigning their assignments around rigorous, authentic projects that require students to apply a mix of academic, technical, technological, cognitive and workplace skills. Seven centers and their partnering home high schools have engaged the entire school in spreading the use of project-based learning. Students have designed and created many exciting projects, including a flu clinic for their school system, a ride-on car for a child with mobility limitations and a house for a family who lost their home to a flood.
5. West Virginia educators are working hard to give students a head start on an advanced credential or degree by aligning their Advanced Career pathways with community and technical college and four-year university programs. The state is exploring ways schools and centers can redesign the senior year of high school to allow students to earn college credits and advanced credentials or degrees before they graduate.
6. West Virginia is committed to preparing transformational CTE leaders who know how to use data to find and close readiness gaps. With support from SREB, career and technology center leaders will advance their capacity as instructional leaders and learn how to work with teams of teachers to identify accelerated learning strategies that increase the percentage of students who graduate ready for college and careers.
I believe West Virginia's leading-edge approach to career and technical education is worth emulating, as their efforts have resulted in more students graduating ready for careers and college. West Virginia's educators and policymakers are fully committed to helping youth graduate ready for their next steps, whether those steps involve earning a credential or degree or climbing the first rung on the career ladder. They understand that when we show students clear pathways that make the connection between challenging CTE studies and college-ready academics, and between postsecondary studies and great careers, they'll follow those pathways all the way to a secure and sustainable middle-class life and a stronger economy.