Engaging Instruction + Exploration = Success!
Don't miss our FREE webinar series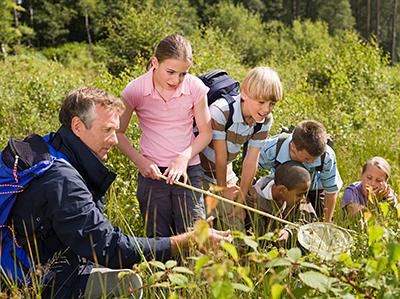 Tap into students' natural curiosity about the world around them by creating meaningful learning experiences that challenge students to see, explore, experience and improve their worlds!
SREB and the National Geographic Society are teaming up to offer a free webinar series featuring the tools, strategies and resources you need to inspire the next generation of explorers and problem-solvers. Join us to learn how to plan highly engaging, standards-based instruction in any content area. Then explore how you can use the National Geographic Society's extensive library of lessons, units, activities and supplemental resources like articles, maps, photographs and videos to design rich, exciting opportunities for students to explore their classroom, community and world.
Choose from four webinars! We recommend literacy for all attendees, plus science, social studies and project-based learning based on your content area and interests.
Need to Know
Cost: Free
Times: All webinars meet from 4 – 5:30 p.m. Eastern. Webinars are 60 minutes plus a bonus 30 minutes for peer collaboration and one-on-one feedback and support from SREB staff.
Scheduling conflict? Register and we'll send you a link to a recording of the webinar.
Location: All webinars meet on a secure Zoom platform. Preregistration is required.
Webinar 1 – Literacy: Explore the World Through a Literacy Lens. Inspire your students to become the researchers, critical thinkers and problem-solvers of the future. SREB's Daniel Rock will explain how to scaffold essential reading, writing, listening and speaking skills as you take students on exciting journeys into history, culture, nature and more with the National Geographic Society's ready-made units, lessons, activities and supplemental resources like high-quality articles, photos, videos, maps and infographics.
Webinar 2 – Science: Inspire a Love of Scientific Inquiry. Bring authentic exploration to your classroom with cutting-edge resources from the National Geographic Society. SREB's Donn Kirkwood and Latonya Bolden will show you how to make science come alive with instruction and assignments that inspire students to engage with natural or human-designed phenomena in or out of the classroom. Learn how the National Geographic Society's creative, engaging lessons and activities will challenge your students to become observers, questioners and explorers in the schoolyard, the backyard and beyond!
Webinar 3 – Social Studies: Grow the Leaders of the Future. Create learning experiences that broaden students' horizons and encourage them to think deeply about who they are and how they can contribute to a better world. SREB's Quinton Granville and the National Geographic Society's Fay Gore will show you how to use the National Geographic Society's units, lessons, activities and resources to design standards-aligned instruction and assignments that immerse students in the process of analyzing and evaluating social studies themes. Increase awareness of historical, cultural and ecological issues and inspire your students to become the explorers and changemakers of the future!
Webinar 4 – Project-Based Learning: Make Connections In and Out of the Classroom. Project-based learning is a powerful pedagogy for helping students connect the knowledge and skills they learn in the classroom with the world around them. Join SREB's Leslie Eaves to learn how the National Geographic Society's unit plans offer you a starting point for creating your own PBL units of study and enriching your project-based assignments with rich, relevant content. You'll leave ready to cultivate rich, student-centered learning environments that foster inquiry and exploration.
Want More Professional Learning?
Join SREB and the National Geographic Society for a FREE virtual professional learning series that will help you develop a STEM or project-based learning culture in your school! Teachers and instructional leaders of all grade levels and content areas are invited to engage with SREB and National Geographic Society staff and peers worldwide as we show you how to shift teaching and learning in your school or classroom toward an inquiry-based approach.
Connect With National Geographic Education
Connect with National Geographic Education by signing up for a free, monthly e-newsletter and join the conversation with our global community by liking and following on Facebook and Twitter.