Declines in 2-year college enrollment could impact workforce in South, nation
ATLANTA — While overall education levels of the South's population continue to rise, the number of two-year college students in the region began to decline before the pandemic, then plummeted nationwide during the crisis — raising questions for state leaders on the future of the region's workforce.

Enrollment in two-year colleges fell by about 7% in SREB states, 11% in the U.S. — and by nearly 20% in some states — between 2014 and 2019. The long-term trends are shown in the Southern Regional Education Board's latest Fact Book on Higher Education and 16 individual state data reports, released today.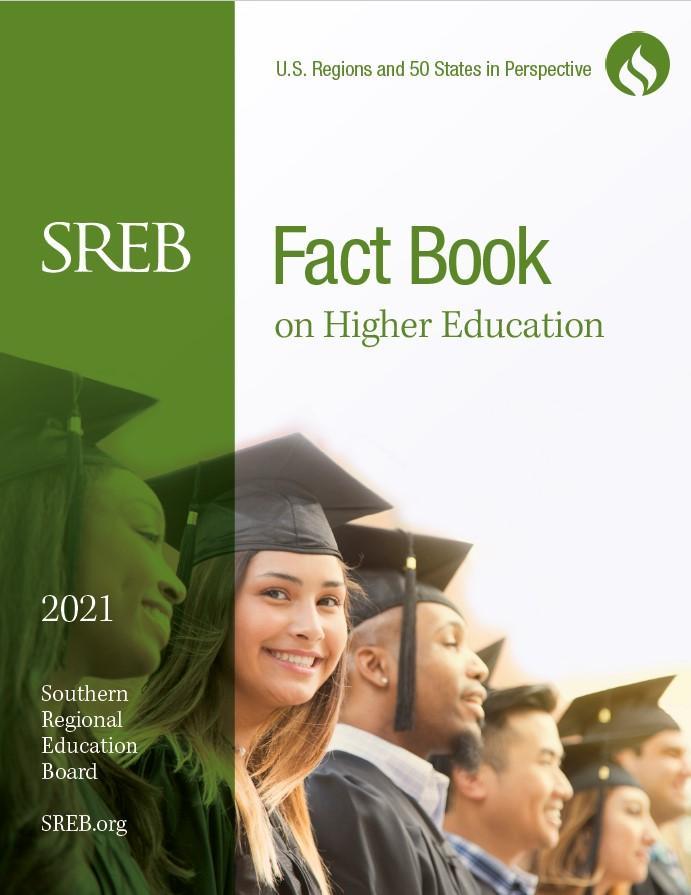 During the pandemic, two-year college enrollment dropped by an additional 15% nationwide in fall 2020 and another 7.8% in fall 2021, according to new data from the National Student Clearinghouse.

The South and nation need more students to earn two- and four-year degrees and career certificates, especially among traditionally underserved groups such as Black, Latino, American Indian, low-income and first-generation students, as employers seek to fill openings in many high-demand careers.

SREB has estimated that 18 million adults in the South could become unemployable by 2025 as technology and automation transform many career fields.

"To be clear, the South and the nation need many more students to enter — and graduate — at every level of postsecondary education," SREB President Stephen Pruitt said. "That means more students need to know where they're headed after high school and find new levels of support during college — especially if students had gaps in their schooling during the pandemic.

"Postsecondary education is an engine for economic growth that can boost every state's recovery from the pandemic and propel them into the future," Pruitt said.

Only Texas among the 16 SREB states saw a rise in two-year college enrollment, at 5.8%, in the five years leading up to the pandemic. Oklahoma, South Carolina and West Virginia each had declines of 19% in two-year college enrollment during the same period. (See rates for all SREB states at end of this document.)

Also, the South's dependent population continued to grow. In 2019, 48% of residents in SREB states were younger than 25 or older than 64 — and therefore not part of the primary workforce.
By 2030, those dependent groups will likely reach 53% of the SREB region's population, outnumbering working-age adults — a first in modern times, the Fact Book shows.

Total enrollment in all two- and four-year colleges and universities declined by less than 1% in the 16-state SREB region and by 3% in the U.S. — the ninth straight year of decline nationwide — from 2014 and 2019. More than 620,000 fewer full-time students attended U.S. public and private colleges in fall 2019 than just one year earlier.

Among the SREB states, total enrollment for all colleges rose only in Georgia, Kentucky, and Texas in the same five years, according to the Fact Book.

Historic population dips for traditional college-age Americans and the long-term rise in college costs are likely among the major reasons for declining college enrollment, researchers have found.

In the South's public and private four-year institutions, enrollment rose by 4% from 2014 to 2019. Ten of the 16 SREB states saw increases in four-year enrollment during that period.
Undergraduate enrollment in the South fell by nearly 2% in two- and four-year public and private institutions in the same period, however — mostly because of declining two-year college enrollment, the Fact Book shows. Total undergraduate enrollment was up in three SREB states from 2014 to 2019: Delaware, Georgia, and Texas.

SREB first published the Fact Book on Higher Education in 1956. Now mainly online, the Fact Book compiles hundreds of data sets gathered by the SREB-State Data Exchange and federal agencies. Comparison data is available through 2019 in most cases.

Other key highlights from the latest SREB Fact Book on Higher Education:

Education levels rising overall: About 40% of working age adults in the South and 43.2% in the nation held a two-year degree or higher in 2019. Both rates have risen slowly for many years.

More shifts in student demographics: The number of Hispanic college students in the South continued to grow from 2014 to 2019, while the numbers of Black and white students declined.
White students represented 51% of the South's total college enrollment in 2019, down from 55% five years earlier. Black (down from 22% in 2014) and Hispanic students (up from 16%) each made up 20% of the region's overall enrollment in 2019. About 6% of the region's college students were from Asian, American Indian, Alaska Native, and Pacific Islander backgrounds.

Hispanic enrollment soars: The number of Hispanic students in all Southern colleges and universities rose by 24%, or 237,000 students, from 2014 to 2019. The South's largest concentrations of Hispanic college students in 2019 were in Florida and Texas, representing 30% and 42% of those states' total enrollment, respectively.

Fewer Black students, but more degrees: The number of Black students in college in SREB states fell by 9.5% — or more than 129,000 students — from 2014 to 2019. Sixteen percent of the South's Black college students were attending historically Black colleges and universities in 2019, up 1 percentage point from 2014. Black students in the South, however, earned an additional 4,800 bachelor's degrees, a 5% increase from five years earlier.
Graduation rates climb: Completion rates continued to rise, reaching 60% in the SREB region and 62.5% in the U.S. for full-time undergraduates in public four-year institutions. Asian-American students had the highest completion rate in the SREB region at 73%, followed by 65% for white students, 56% for Hispanic students, and 45% for Black students.

In public two-year colleges, graduation rates for full-time students were 26.1% in the SREB region and 28% in the U.S. Two-year colleges often have fewer full-time students than four-year institutions, which can impact these rates, according to SREB.

More career credentials: Students completed more than 450,000 career-related certificates in the U.S. in 2018, a one-year increase of more than 17,000. These are industry certifications in programs that can take a year or longer to complete, usually offered in two-year community or technical colleges. Students in SREB states completed 36% of the nation's certificates (163,800) in 2018.

College tuition lower in the South: Median tuition and fees in the South's public four-year colleges and universities was about $8,600 in 2019-20, compared with $9,000 nationally. In the South's two-year colleges, median tuition and fees were about $3,300 in the South and $4,000 nationwide. Total college costs of college — with housing, food, and more — can run much higher.

Fewer with college debt, but average amount grows: The share of 2019 bachelor's degree graduates facing college debt declined in the U.S. and SREB states, but the average debt grew to more than $28,200 in SREB states, slightly higher than the U.S. average and up 8% from 2014.

Faculty diversity lags: Faculty diversity has not kept pace with changes in student demographics, although faculty in the South are more diverse than in the nation. In SREB states, 8.6% of full-time faculty in public four-year institutions were Black and 5.4% Hispanic. Nationwide, only 5.5% of full-time faculty were Black and 5.3% Hispanic.

More faculty needed: Even with declining enrollment, the U.S. will need 14,500 more full- and part-time college faculty members in 2029 than in 2019 — in part because many faculty are reaching retirement age. A majority of two- and four-year college courses in the South and U.S. were taught by part-time faculty in 2019-20, changing little from five years earlier.

Faculty pay stagnant: From 1989 to 2019, the average salary for full-time faculty members in the South's public four-year institutions crept up by 4% to $83,862. In the region's public two-year colleges, the average full-time faculty salary fell by 2% to $70,404 over the same 30 years.

Two-year college enrollment changes, 2014-2019
U.S. -10.8%
SREB region -7.1%
AL -10.5%
AR -16.4%
DE -2.3%
FL -10%
GA -11.6%
KY -15.4%
LA -11.5%
MD -16.7%
MS -4.9%
NC -8.2%
OK -19%
SC -19.2%
TN -5.2%
TX +5.8%
VA -17.2%
WV -19.3%
Source: SREB Fact Book on Higher Education and the 16 state-by-state Featured Facts reports
MORE: The SREB Fact Book on Higher Education provides policymakers with comparable data for 50 states and the District of Columbia on topics such as:
Population and economic trends that drive education
Enrollment and graduation by type of college and degree
Degrees and certificates awarded
Tuition and fees
State and federal financial aid
Faculty salaries
College revenues and expenditures
State and federal funding for higher education
See the new Fact Book and 16 state reports at www.SREB.org/FactBook. For more details, contact SREB Communications.

Media contact: Alan Richard, cell (202) 641-1300