UNIVERSITY OF SOUTH FLORIDA FACULTY MEMBER WINS NATIONAL MENTORING AWARD
Sloan Mentor of the Year, Institute on Teaching and Mentoring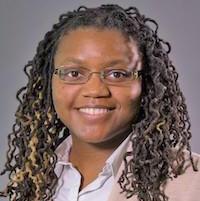 Tempestt Neal, founder and director of the Cyber Identity and Behavior Research Lab at the University of South Florida, received one of two national Faculty Mentor of the Year awards at the 30th annual Institute on Teaching and Mentoring this October in Tampa.
The Institute is the nation's largest annual gathering of underrepresented doctoral students and college faculty members of color.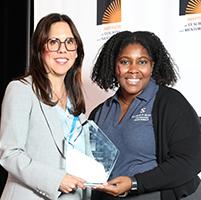 Neal was nominated by Sloan doctoral students Sayde L. King and Wilson Lozano. In their nomination letter, King and Lozano said that Neal, an assistant professor in the Computer Science and Engineering department, "has mentored both of us in a genuine and compassionate manner while challenging us to become the best versions of ourselves in academics and beyond."
The two described Neal as "fervent in her commitment to underrepresented minorities in computing" and one who maintains "an environment of academic excellence, empathy, empowerment in which she inspires us to exceed our own dreams and expectations.
To address the nation's continuing shortage of African American, Hispanic and Native American faculty, the SREB-State Doctoral Scholars Program hosts the annual Institute on Teaching and Mentoring, a collaboration of programs across the country that support minority doctoral students.
Contact: Janita Poe, SREB News Manager, at Janita.Poe@sreb.org or 404-879-5516, ext. 216
The Institute on Teaching and Mentoring is the largest gathering of minority doctoral scholars in the country. Now in its 30th year, the Institute gives the issue of faculty diversity a national focus and provides minority scholars with the strategies necessary to survive the rigors of graduate school, earn the doctoral degree and succeed as members of the professorate.