Special Convenings and Support Services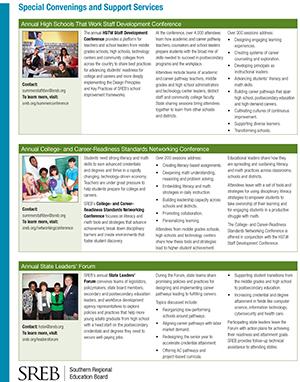 This two-page document describes how SREB's annual meetings bring educators and policymakers together to share best practices.
SREB also offers data-driven curriculum, instruction and career pathway reviews that help schools identify and own their readiness gaps. Related workshops empower school leaders and teachers to design action plans that give teachers the time they need to work in cross-disciplinary teams to plan engaging, standards-driven assignments.
Highlighted services include:
Curriculum and Instruction Reviews
Site Development Workshops
Career Pathway Reviews
Career Pathway Development Workshops
For additional information, see Connecting Classrooms, Careers and College.