Worthy of Note eNewsletter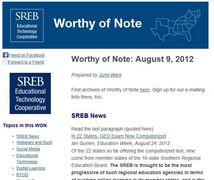 Worthy of Note brings to your inbox a free digest of notable news on education technology, digital learning, webinars and other timely topics. Subscribe via one of these two lists:
eINFO e-mail list for information on technical, instructional and management topics as well as information on upcoming webinars of interest and Worthy of Note news.
Subscribe to eINFO.

Online Teachers e-mail list, for information and tools for effective use of technology in teaching and learning, plus notice of upcoming webinars and online professional development for K-12 and postsecondary educators and Worthy of Note news.
Subscribe to Online Teachers.
2017 Worthy of Note
Archived Worthy of Note