A bridge to college: Alabama students find success through SREB Readiness Courses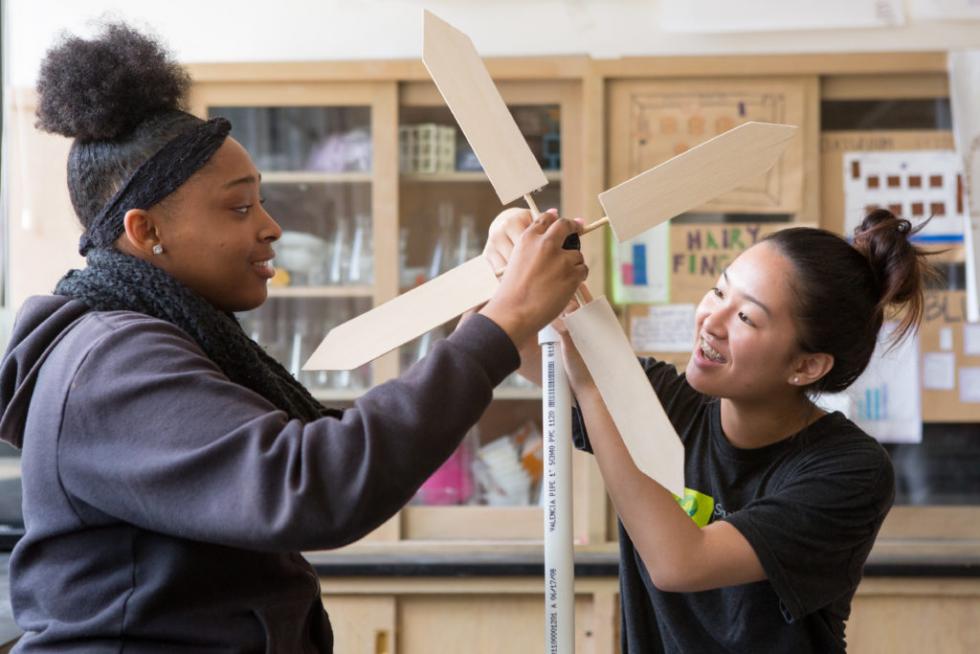 Every SREB state needs more students to complete two- and four-year college degrees and earn valuable career credentials.
But how can states build a stronger bridge for students from high school to college?
In partnership with SREB, Alabama's high schools and community colleges have found a way. The strategy is helping more students succeed and avoid getting stuck in remedial education courses in college — one of the more intractable problems in higher education.
Many high schools in Alabama now offer SREB Ready for College courses in literacy and math for 12th graders who need extra academic support to be prepared to succeed in college.
Two years ago, the Alabama Community College System and the Alabama Department of Education agreed that high school students who earn a grade of C or higher in the Math Ready and Literacy Ready courses would be exempt from developmental math and English courses in their first year of college.
Why does that matter? Research shows that fewer than one in 10 community college students who take developmental English or math — courses that cost students time and money but offer no college credit — finish a two-year degree.
Education leaders in Alabama figured there was a better way.
Promising early results
As Alabama schools began using the College Ready courses, the number of first-year students placed in developmental math and English at Alabama community colleges has dropped significantly.
In fall 2015, 45% of recent high school graduates had to enroll in development courses in the Alabama community colleges. By fall 2019, the rate had fallen to just 29%, according to data from the Alabama Commission on Higher Education.
And most remarkably, students who'd taken the Ready for College courses in high school stayed in college through their first full year at higher rates than other students — and graduated with two-year degrees or career credentials at nearly the same rates as the others.
"It has almost completely closed the completion gap," said Allyson Morgan, SREB director of state and district partnerships.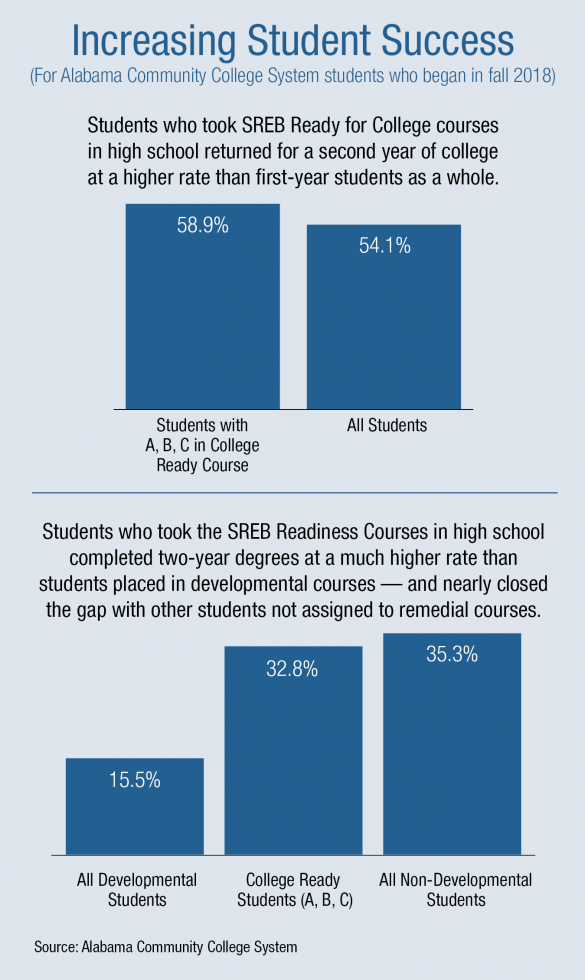 "The College Ready courses are a game changer in ensuring that more high school students are prepared for college-level coursework upon entrance in our community colleges so that students more quickly and easily achieve their academic and career goals," said Brad Fricks, director of Academic Affairs at the Alabama Community College System.
"If students had not taken this course, they would have entered college probably having to take remedial courses," added SREB's Jason Adair, who works with teachers and schools that offer the courses. "And they are successful in their first college credit-bearing math or English course at the same rate basically as everyone else."
How the courses work
Alabama's Pike County Schools, based in Troy and serving the area surrounding that small city in southeastern Alabama, are entering their fourth year of offering the SREB Literacy Ready and Math Ready courses to seniors who score in specific ranges on each subject on the ACT.
Students there also often improve their ACT scores after taking the courses in the first semester of their senior year, said Shondra Whitaker, an instructional specialist in the 2,200-student district.
In 2020, more than two-thirds of Pike County's seniors who took the literacy course scored higher on the ACT in reading than they had earlier, Whitaker said. Twenty-five percent scored higher on the ACT in math after taking the Math Ready course.
"Some seniors, who take these courses in addition to their senior English and math classes, end up getting math and literacy instruction all year — and that does really help prepare them for their next step after high school," Whitaker said.
A main ingredient is how the courses were designed by SREB and how they're taught in the classroom. Students find lots of opportunities to gather for meaningful discussions and solve problems that bring the subjects to life.
Math, literacy with meaning
In the Literacy Ready course, students improve their reading and writing skills by connecting their work to topics in history and science. One lesson uses a Socratic Circle to help students understand the Cuban Missile Crisis.
Students' reading skills improved dramatically, Whitaker said. More than eight in 10 students showed growth on a reading assessment in her school system's first year offering the literacy course — and some students' skills jumped by multiple grade levels.
"They start putting together what they're learning in their other classes with what they're doing in English class, and it kind of starts to make sense for them," she said.
The SREB Math Ready course helps students make connections between the concepts they encountered in middle and high school and helps them understand why math is important.
Students work on real problems, requiring them to interact with their peers, synthesize information, practice public speaking and more. They learn to master percentages by looking at price discounts in a store. And they use other math skills in building a personal budget and discussing how to build a fence.
In other words, the Readiness Courses help students find purpose and meaning in English and math courses by asking questions, investigating real problems and solutions, and interacting with their peers.
A model to support other students?
After a pandemic-plagued school year, many school leaders are searching for ways to strengthen support for students — and this type of instruction is part of the answer, said SREB President Stephen Pruitt, a former science teacher.
"This is what acceleration instead of remediation looks like," Pruitt said.
For school systems that decide to use the Readiness Courses, SREB provides teachers with multiple days of professional development, giving them the tools and confidence to bring these courses to life and help students see that they can do college-level work, said Adair with SREB.
"It's teaching kids to take ownership of their learning."