New tools may help more students succeed in college, dual enrollment courses
States are considering how they can help more students finish college — in an economy that demands higher levels of education and career preparation than ever before.
At SREB's first conference of its kind, leaders from states, higher education, and K-12 education agencies convened in Atlanta Feb. 24-25.
The main topic was how OER — open educational resources, including high-quality, free textbooks and course materials — and stronger dual enrollment programs could help more students take college and career courses starting in high school.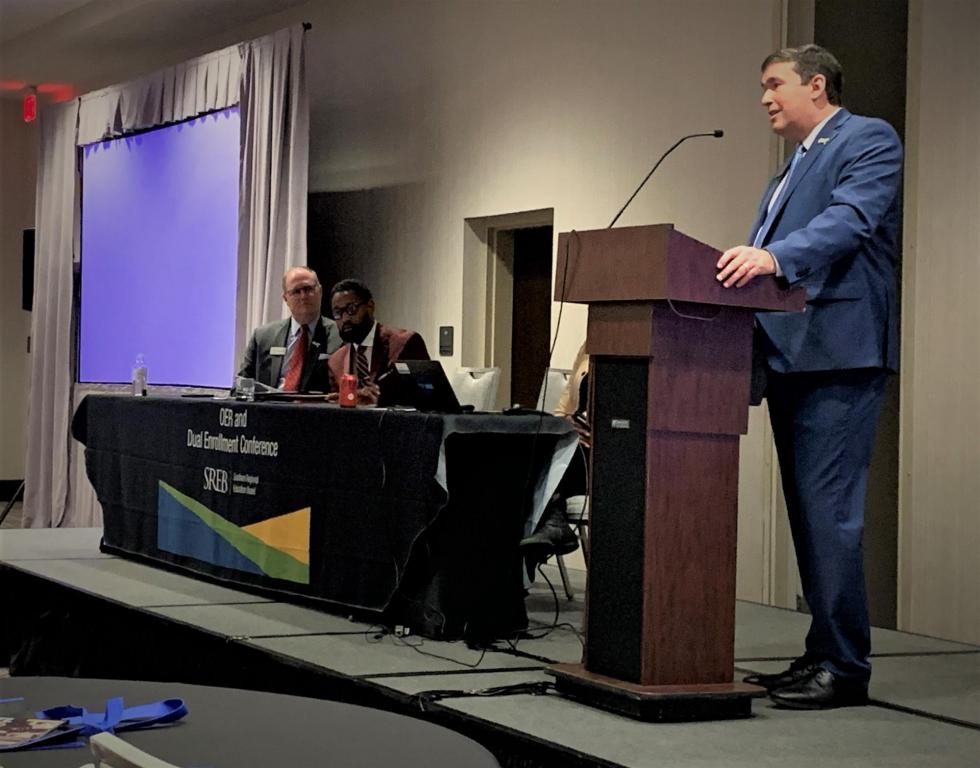 These strategies may not sound exciting, but their impact could be profound.
"When I think about OER," SREB President Stephen Pruitt said at the conference, "I think of it as a lifeline. I think of it as an opportunity for some of our kids to get into college… that many of our kids still don't have."
Why student success matters
SREB has projected that up to 18 million Southerners could become unemployable by 2025 without further education and training. That's because in many states, about half of working age adults hold a high school diploma or less.
"How are we ensuring that every student, if they're enrolled in college, can equitably access the resources to be successful?" asked Stevie Lawrence, SREB's vice president for higher education.
Lawrence touted SREB's expanded areas of work to help more students succeed, including the Student Success Advisory Council and HBCU-MSI Collaborative that bring together higher education leaders to address common issues.
"How are we ensuring that every student… can equitably access the resources to be successful?"
Word is still spreading about the value of OER in helping students afford and succeed in college, said Charlotte Dailey, who leads this work for SREB, in coordination with organizations in other regions of the country.
In breakout sessions at the conference, leaders from Motlow State Community College in Tennessee, the University of North Alabama in Florence and other colleges detailed how they use OER in regular courses and dual enrollment for high schools.
Solutions can pay off
While dual enrollment has become common in many high schools, the courses can benefit more than just the highest-achieving students — and some schools can provide more courses than others, said Dale Winkler, SREB's vice president for school improvement.
A new vision for dual enrollment could emphasize career-oriented courses as a gateway for more students into two- and four-year college programs, he said.
Louisiana Commissioner of Higher Education Kim Hunter Reed told the conference that OER and dual enrollment are essential ingredients in meeting Louisiana's goal of having every Louisiana high school student by 2029 graduate with college credit, a career credential, or both.
The state also wants 60% of its working-age adults to hold a degree or credential, which Reed says will require doubling the current level.
"We know we have a lot of work to do," she said. "We have to move more people from poverty to prosperity."
When disasters such as hurricanes and the pandemic forced colleges and schools to deliver education differently, Reed said, the response showed that "the battleship could turn."
"We have to move more people from poverty to prosperity."
About two-thirds of Louisiana's high school graduates earn some type of college credit while in high school. But while 42% of the state's white students take dual enrollment courses, she said, fewer than one in four Black and Hispanic students do.
"Know your numbers," Reed urged. "How do we do better by our students, by our families and by our states?"
Louisiana recently launched a statewide dual-enrollment portal for school counselors, students and parents. This fall, the state plans to launch 25 redesigned dual-enrollment courses using OER.
Reed said she's met first-generation college students who consider dual enrollment "a game-changer for them."
Growing support
Elected leaders in Southern states are interested in these strategies, said Jeffrey Grove, an SREB program specialist, who moderated a panel of state legislators at the conference.
State Senator Royce West of Texas cited data showing college students spend an average of $1,200 a year on textbooks and materials.
"How in the world can somebody pay that type of money, barely have enough money for tuition, and be successful in our institutions?" asked West, who co-sponsored a bill that established the state's OER online repository.
John Opper of the Florida Virtual Campus said a majority of college students avoid buying textbooks at times because of the costs. Nearly half take fewer courses for the same reason. OER can help, and Florida has launched summits across the state for college faculty members to expand OER use in classrooms, he said.
Former state Senator Fran Millar of Georgia said states need to ensure that more students and their families know about OER and dual enrollment. "You've got to make sure parents understand what's out there," he said.
MORE: See SREB's Open Educational Resources (OER) page for additional information.