Why Education in America Must Become a Straighter Path for Students
Once and for all, leaders must clear a lifelong path in education for every student, building stronger connections across the education system, SREB President Stephen Pruitt told a nationwide online audience on March 17.
If more students don't find their way through different types of college and career training throughout their lives, the American workforce could falter and employee shortages will only continue to grow, Pruitt said during The Hill newspaper's Future of Education summit.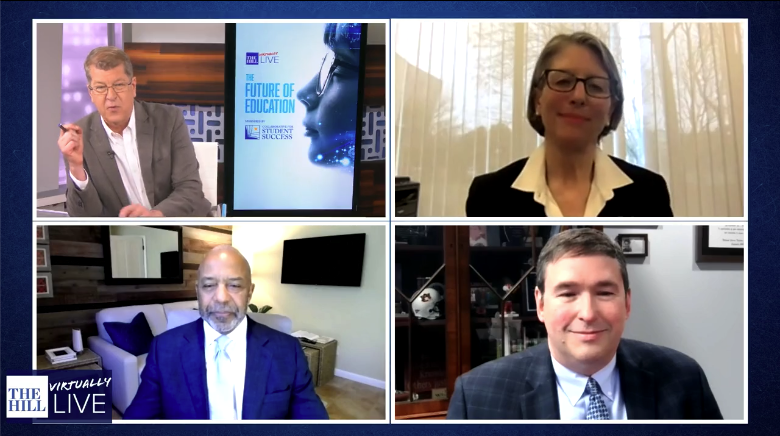 "What do we want our workforce to look like?" Pruitt asked.
A former science teacher in his native Georgia, he spoke on a panel about the future of science education, joining National Math and Science Initiative CEO Bernard Harris Jr., a former astronaut, and Margaret Honey, the president and CEO of the New York Hall of Science in Queens.
Other speakers during the one-day summit included U.S. Senator Bill Cassidy of Louisiana and U.S. Secretary of Education Miguel Cardona.
A connected path for all
How can states build a more connected system that helps more students go further?
States should set specific goals for education and the workforce, Pruitt said, determine the steps required to meet those goals, and align priorities among all the parts of the education system so that every student can be successful.
No more children who can't read well after 3rd grade. No students unprepared for the high school courses that in turn prepare them for college and the workplace.
"As science people, we know that anytime you affect one part of a system it affects another part of a system," Pruitt said. "You can't work like The Jetsons if you're thinking like The Flintstones."
Science also needs to become a much greater priority in the nation's schools, Pruitt said.
Many of today's most in-demand jobs already require math and science skills — even in fields that don't require a four-year college degree, he said.
SREB projects that 18 million Southerners could become unemployable by 2030 without additional education and training. Most career fields are undergoing transformation as a result of new technology, automation and artificial intelligence.
The pandemic has only hastened these changes in every state, making about one-third of the region's work activities automated and putting many of those 18 million people at risk by 2025, even sooner than expected, SREB found.
Hard work ahead
Improving every student's path in education — and making science a more essential part of that path — will require sustained focus from policymakers and educators alike, Pruitt said. Mississippi's tremendous gains in student achievement in reading and math, for instance, followed a decade of work by policymakers.
Deeper changes will require leaders to think about education systemically rather than as a series of single programs, he added.
"Silver bullets only work for werewolves," Pruitt said.
Lamenting the "anemic state of science education in this country," Honey of the New York Hall of Science stressed the need for better-prepared teachers, especially in schools where students may have the most to gain.
Countries that have leapfrogged the U.S. in many education measures "first and foremost have invested in their educators," Honey said, ensuring "high-quality, well-trained and well-supported people in the classroom."
Opportunities abound
Indeed, many SREB states are experiencing shortages of teachers in math, foreign language, special education and other fields. Schools in rural and urban communities often struggle to find strong candidates for teaching positions.
In science, many students don't understand the great opportunities available to them in related career paths, the panelists agreed.
"They don't see how science and STEM is relevant to what they're doing. The technology they love working on, these devices that we have" wouldn't be possible without people with science-and-technology knowledge, said Harris of the National Math and Science Initiative.
"If we are going to move forward as a nation, as a people on this Earth, we have to make sure this type of education is for everyone," he said.