Powerful Social Studies Instructional Practices
Build literacy and inquiry skills and help students understand and engage with their world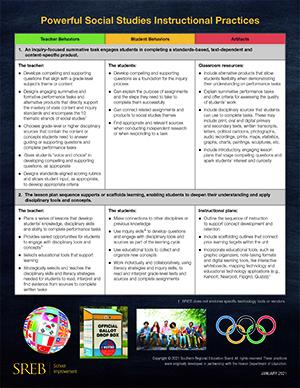 Teachers who follow SREB's six Powerful Social Studies Instructional Practices create compelling thematic questions and choose a broad range of disciplinary and interdisciplinary sources — such as print, oral or digital texts, letters, cartoons, photographs, audio and video recordings, art, artifacts, maps and more— that spark students' curiosity and prompt them to complete inquiry-focused tasks.
Students develop essential literacy skills — reading, writing, speaking, listening and thinking — as they use evidence from sources to formulate ideas and share and examine different experiences and perspectives with their peers. Teachers look to the community and current events to engage students in gaining awareness of local, regional and global problems, conducting research and taking informed action.
The Powerful Social Studies Instructional Practices were originally developed by SREB in partnership with the Hawaii Department of Education and later refined by a team of SREB content-area experts to align with our Powerful Literacy Instructional Practices.
The practices are grounded in the National Council for the Social Studies' national curriculum standards and "3C" college, career and civic life framework for social studies state standards.