Momentum grows for open educational resources
After first-ever conference, leaders can tap additional workshops on using OER to support students
SREB continues to build momentum from the first conference of its kind — the Open Educational Resources and Dual Enrollment Conference: Making a Case for Student Success, held in Atlanta in late February — by embarking on more ways to bring education leaders together around this topic.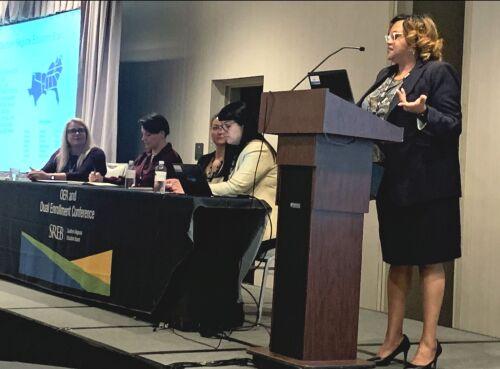 A generous grant from the William and Flora Hewlett Foundation allowed SREB to launch an initiative in 2020 to raise awareness and encourage adoption of OER: free, high-quality textbooks and materials that can be used in K-12 and college classrooms.
The grant made the inaugural SREB conference possible.
During the event prominent leaders in higher education spoke of OER as a growing student success strategy.
Keynote speakers Kim Hunter Reed, the commissioner of higher education in Louisiana and an SREB Board member, and Richard Sebastian, the director of open and digital learning at Achieving the Dream, a national community college organization, shared with the audience how OER can improve access and equity in education.
Not only can OER save students money as they pursue college and technical degrees, it can direct students to additional vetted sources of information that can be updated and shared in new ways, the speakers said.
A rising profile for OER
SREB is the nation's only regional education compact that works in K-12 as well in higher education. As such, the conference focused on how OER can make dual enrollment and career and technical education courses more widely available in schools across the South and the nation.
Teachers, state dual enrollment directors, college faculty members and higher education administrators also shared emerging and promising practices in developing OER to provide more avenues for student success.
Open Licensing with Creative Commons: Webinar >
SREB President Stephen Pruitt joined Stevie Lawrence, SREB vice president of postsecondary education, and Dale Winkler, SREB vice president of school improvement, in presenting at the conference on the need to approach OER and dual enrollment more seamlessly in K-12, postsecondary, and career and technical education.
Offering strategies for OER funding at the state level, state Senator Royce West of Texas passionately discussed legislation he sponsored to increase awareness and use of OER and dual enrollment in K-12 and postsecondary education.
Collaborating across the nation
The partnership among all four of the country's regional education compacts gave the event a national scope.
The National Consortium of Open Educational Resources brings together the four regional education compacts that participate in the the Hewlett Foundation grant, and representatives from each shared information on OER efforts in their region: Charlotte Dailey of SREB; Annika Many of the Midwestern Higher Education Compact; Lindsey Gumb of the New England Board of Higher Education; Liliana Diaz of the Western Interstate Compact for Higher Education; and Tanya Spilovoy, who heads the national consortium.
More workshops coming soon
Looking ahead, a series of SREB webinars will further inform education leaders on all the elements of expanding OER to help more students succeed in college courses — starting in high school.
While last summer's SREB webinars focused on the fundamentals of OER — affordability, access, and equity — this year's will offer information on searching for and using OER, how to manage the open-licensing process for OER, and how schools can expand OER in dual enrollment and CTE courses.
The May 18 webinar will feature an expert from Creative Commons who will describe how states, colleges and schools can manage open licensing of OER, ensuring the quality of textbooks and other materials. Future webinars will highlight an affordable learning hub for HBCUs, how OER is making college more affordable in Georgia and more. Visit our SREB webinars page for details.
SREB will continue to promote the most effective and promising OER work in our region and work to build greater awareness of OER. We look forward to spreading the news of how OER can help more students in the South and the nation succeed in college courses.