Technology Centers That Work
Jump start credentials and careers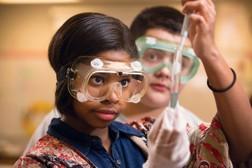 SREB's school improvement design for technology centers — Technology Centers That Work — helps leaders and teachers adopt continuous improvement practices that foster rigorous academic and career pathway curricula, project-based instruction, work-based learning and personalized supports.
With SREB support, leaders and teachers collaborate with sending high schools and community and technical colleges to design and implement career pathways that close critical workforce gaps. They also use our problem-solving process to address problems of practice.
We've invested over 30 years of research to identify 10 key school and classroom practices that positively impact student effort and achievement. Whether applied in high schools or technology centers, these practices give students the purpose, direction and support they need to achieve college and career readiness.
Create a culture of high expectations in every classroom and throughout the school.
Ensure each student develops and completes a personalized program of study that leads to postsecondary and career success.
Teach academic content through the lens of real-world problems and projects.
Ensure that all students, including underrepresented and nontraditional students, have equitable access to high-quality career pathways.
Use research-based instructional strategies and innovative technology practices to engage each student.
Provide teams of teachers with training, time and support to work together to improve instruction.
Provide each student with a continuum of real-world learning experiences that connect classroom and workplace learning.
Offer guidance and advisement that empower students to pursue a full range of career and college options after high school.
Provide students with the extra help or accelerated learning strategies they need to graduate college and career ready.
Engage the whole school community in continuously using data to identify problems and develop plans to solve them.
Customizable Support
TCTW sites gain access to our full range of support services, Advanced Career, our exciting project-based career pathway curricula, professional development and coaching services, and surveys for center students and teachers that generate valuable data for improvement planning.
SREB encourages states, districts and centers to join our national network of TCTW sites for the most cost-effective access to services.
We invite TCTW sites and their partners to attend our annual TCTW Leaders Forum, a national convening focused exclusively on quality CTE and the critical role centers play in their states' educational and workforce development systems. Most sites also attend our annual Making Schools Work summer conference to network and learn with thousands of educators nationwide.