SREB Takeaways on Teacher Compensation Data
Trends and highlights from our latest analysis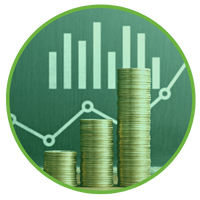 Teacher compensation is about more than just salaries. Each year, we track and analyze the full package of teacher compensation data across the 16 states in the SREB region — from salaries to health care and retirement benefits to net take-home pay.
Here we highlight key takeaways from our most recent compensation analysis.
Below: Explore key takeaways on teacher compensation in the South
Average Teacher Salaries
Average starting salary, average salary and average top salary vary across the SREB region.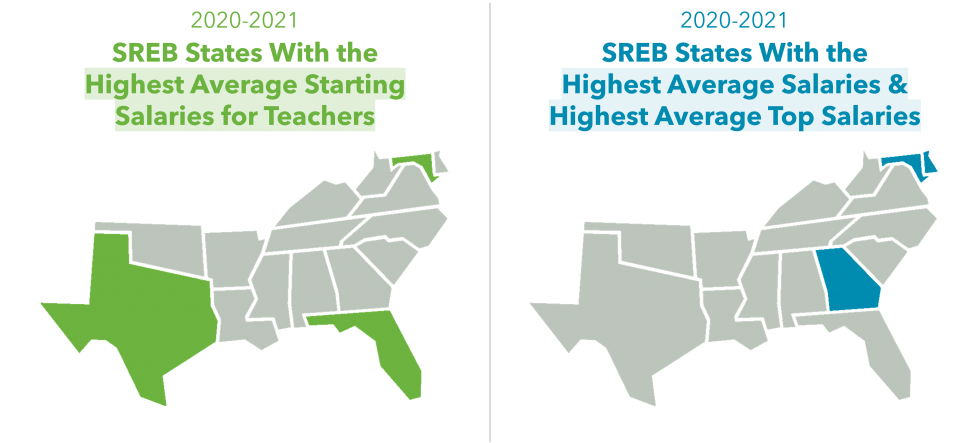 But the South continues to lag significantly behind the nation overall for average teacher salaries and average top teacher salaries, despite a cost of living index that averages 95% each year (compared to 100% for the nation).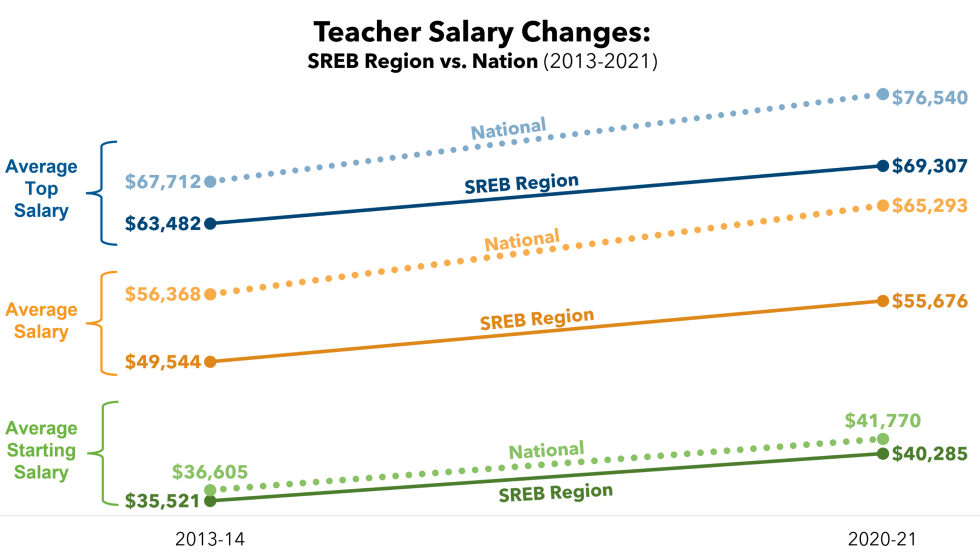 Explore more state-by-state teacher salary data using the Teacher Compensation Dashboard.
Teacher Health Benefits
The chart below shows changes to average and median premiums for health benefits (for both individual and family plans) in SREB states. You can also use the Dashboard to further explore state-by-state data.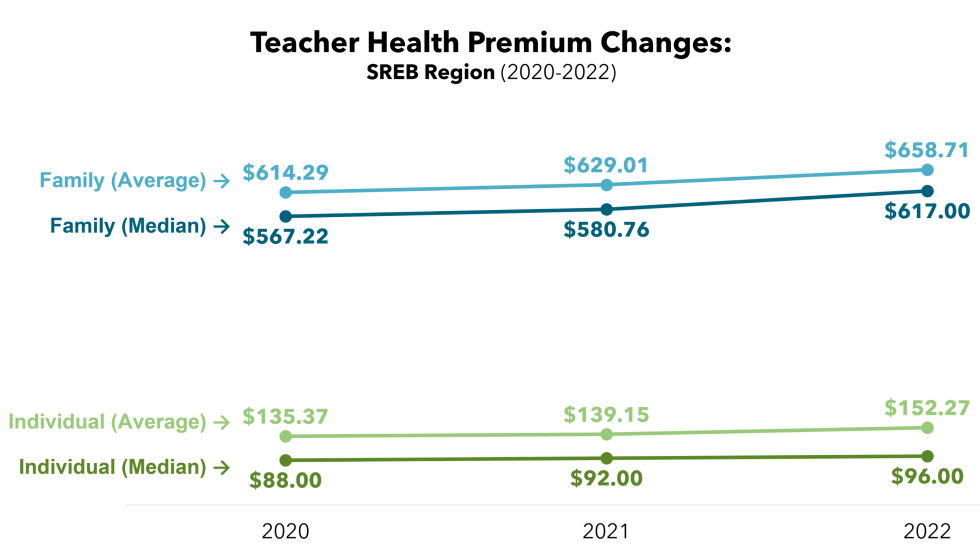 Teacher Retirement Benefits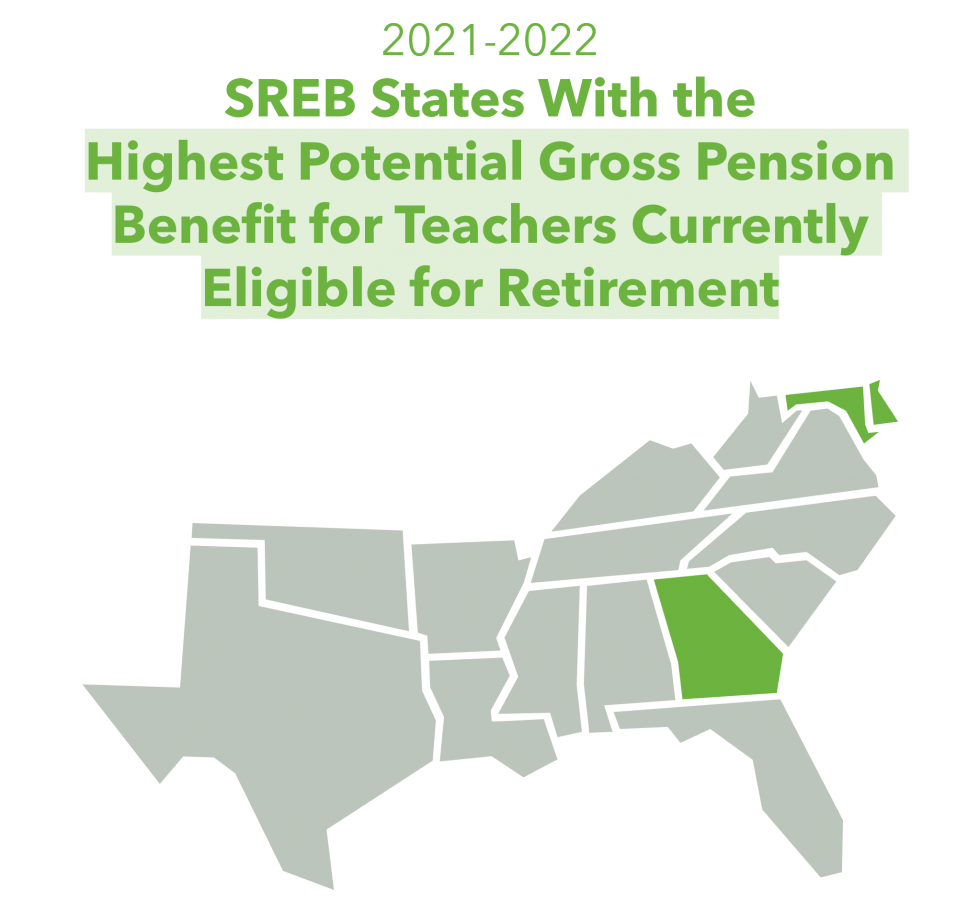 All states offer pension plans to teachers, and most SREB states have pension tiers with varying benefits for newer teachers. Six states now have portable investment or hybrid plan options for teachers — which can allow younger teachers to save more and can also be a cost-saving measure for state budgets by lowering their total unfunded liabilities.
SREB calculates a gross annual pension benefit for teachers for each plan by state. The chart below shows the changes in the regional average gross annual pension benefits for teachers currently at retirement. Nearly all states have lower pension benefit formulas for newly hired teachers, which reduces newer teachers' gross benefit earning capability.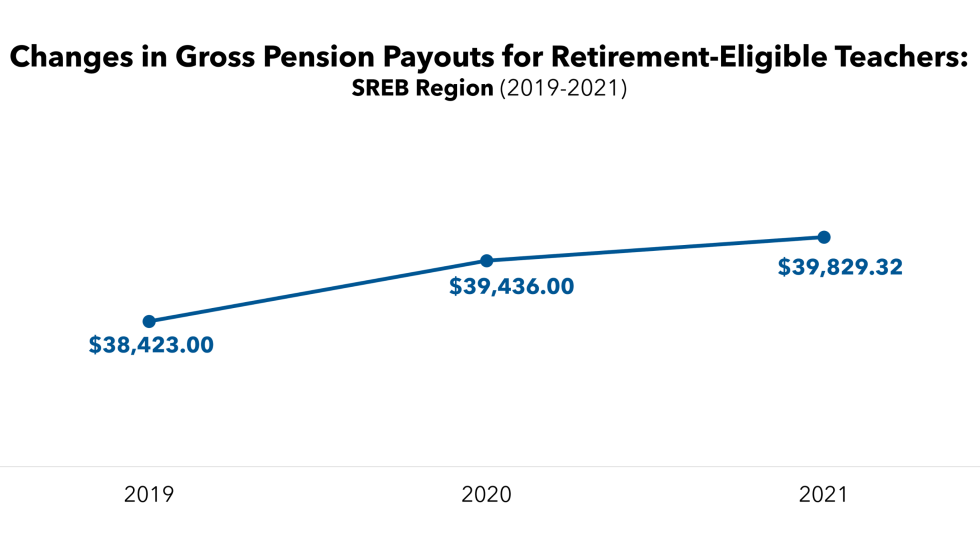 Note: SREB calculates the typical gross annual pension benefit for a teacher in each state at age 65 with 30 years of service (not including Social Security). SREB is unable to calculate potential gross annual investment or hybrid plan benefit due to the high number of variables related to investments and returns.
Teacher Take-Home Pay
SREB calculates typical take-home or net pay for teachers in each state at different stages in their career.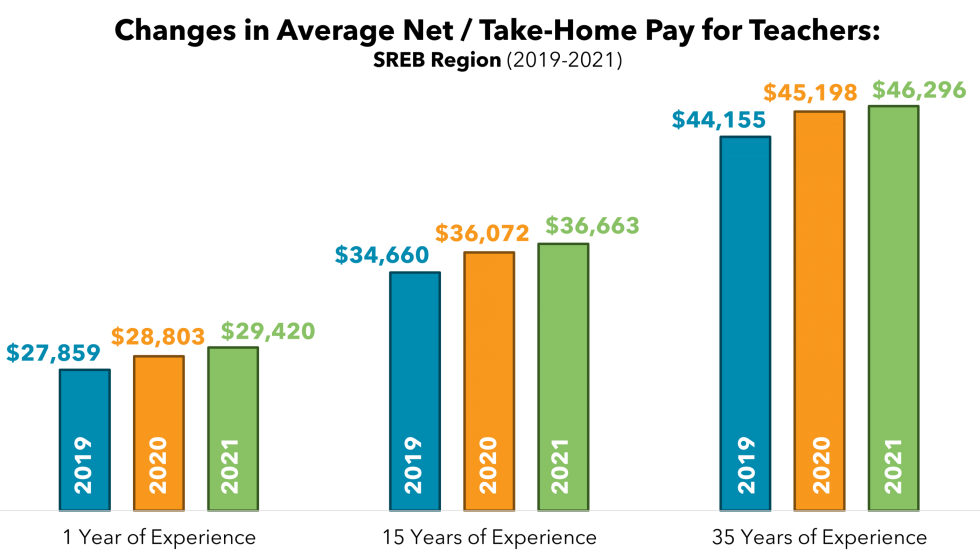 Note: SREB calculates typical net pay for teachers in each state at different stages of their career (gross salary minus benefit costs and taxes) using standard assumptions for age, family, tax status and health needs.
State Spotlight: Big Changes in Kentucky
To explore your state data over time, see the SREB Teacher Compensation Dashboard.
Over the last few years, Kentucky has made significant changes to teacher health care and retirement benefits to help teachers take home more money each pay period. These changes increased take-home pay from an average of $2,160 per month in 2020 to $2,643 in 2021, without an increase in average gross salary.
How they did it: Kentucky's premium rates were decided by a formula in 2020. The formula was: Plan Option Cost + Tobacco Usage + Living Well Promise + Time Specific Adjustments. In 2020-21 and beyond, this rate formula was discontinued, and a standard premium amount was instituted for all state plan options. With this restructuring, Kentucky greatly lowered the premium cost for all state plans.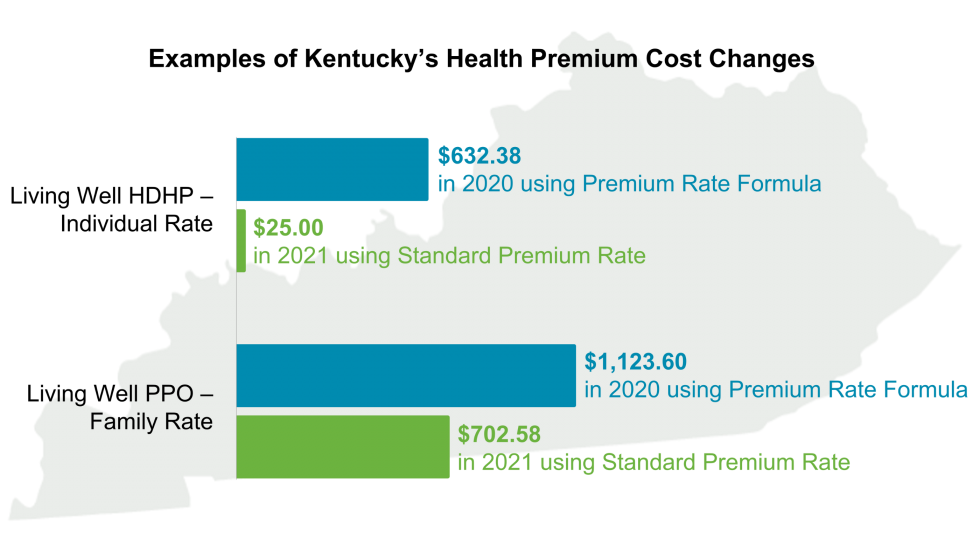 Kentucky also established a new hybrid retirement plan for new teachers hired after January 1, 2022. This hybrid plan includes a pension portion and a defined contribution or investment plan portion, allowing teachers to receive a partial guaranteed pension payout at retirement, plus have some control over their own 401(k)-style retirement portfolio. Kentucky is the sixth state in the SREB region to offer a hybrid or investment plan to teachers.