Teacher Workforce Data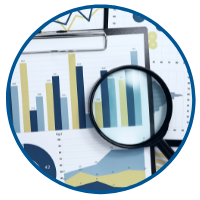 Teacher shortages hurt education and the economy. But to address these shortages, elevate the profession, and fuel the economy, a key first step is unpacking the data.
States are uniquely positioned for this work — by collecting, analyzing, and distributing teacher workforce data, states can shine a light on inequities and inefficiencies. SREB supports states' efforts to use teacher workforce data to inform strong policies and practices, shares ongoing research and analysis, and conducts focus groups with teachers across the region to learn more about their experiences.
State-by-state data can be found in our State Progress Reports.
Use the tabs below to explore data:
2022 Teacher Workforce Data Summary

This 1-page fact sheet shares a summary of teacher workforce data in SREB states — including a snapshot of teacher preparation, certification, compensation, diversity, turnover, and shortages.
Educator Workforce Data Slides
These slides feature regional data on the entire spectrum of the educator workforce in SREB states, including data on K-12 teacher shortages and shortages among higher education faculty.
Teacher Characteristics
(2017-18) This chart outlines the percentage of each state's teachers with one or two years of experience, with emergency or provisional certificates, who plan to leave the profession, and who are teachers of color.
Shortage Areas
(2019-20) Almost all states in the SREB region have shortages in math, science, and special education.
EXPLORE TEACHER SHORTAGE AREAS
Prep Programs
Teacher preparation program enrollment and completion is declining across the SREB region.